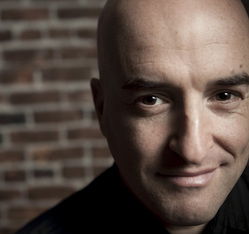 The Philosopher Kings highlights some extraordinary individuals facing nearly impossible odds
Seattle, WA (Vocus) June 6, 2009
Greg Bennick, a nationally recognized speaker, film producer and musician, is premiering his new highly-anticipated film "The Philosopher Kings" at the AFI/Discovery Channel Silverdocs Film Festival (http://www.silverdocs.com) in Washington, D.C. on June 18.
"The Philosopher Kings" explores the kind of wisdom that gets us through our day-to-day lives, giving us perspective on how to view our lives. To seek out this knowledge, Bennick and his team profiled eight extraordinary people who work at prestigious U.S. universities...as custodians. The film documents their lives, their triumphs and tragedies in a poignant, moving and insightful way, offering a voice for those in our society who would otherwise be voiceless and ignored.
"The Philosopher Kings highlights some extraordinary individuals facing nearly impossible odds,"said Bennick. "Hardship and suffering are at the heart of our experience on this earth. The film is just as much about embracing this fact as it is about the story of these unseen custodians, people who are often overshadowed as insignificant as we go about our lives."
The Philosopher Kings will be one of 11 films to compete for the prestigious Sterling U.S. Feature Award, which was given to the Oscar-nominated documentary "The Garden" last year. Now in its seventh year, the festival runs June 15 through 22 at the AFI Silver Theatre and Cultural Center. The Philosopher Kings was produced by Transcendental Media, an independent motion picture company based in Long Beach, Calif. and Seattle.
Bennick, 38, launched his career after earning a fine arts degree from Cornish College of the Arts. Since 1995, he's been the lead singer of the straight-edge hardcore band Trial, based in Seattle. Two years ago, he garnered international acclaim as producer of the award-winning documentary, "Flight from Death." He is the co-founder of the global World Leaders Project, which has initiated important dialogue on human violence with world leaders.
Bennick has addressed more than two million people around the world as a speaker and musician. Greg Bennick's website is gregbennick.com.
The Philosopher Kings website is philosopherkingsmovie.com
To view a trailer of the movie, visit http://philosopherkingsmovie.com/media/.
###