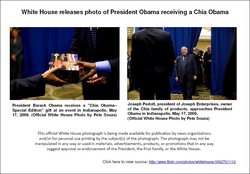 San Francisco, CA (PRWEB) June 6, 2009
When Joseph Enterprises, Inc., the makers of the Chia® family of products first introduced the CHIA OBAMA, it created excitement and interest.
During an event on May 17th, Joseph Pedott, founder and owner of Joseph Enterprises, had the opportunity to meet President Obama personally and present him with a Chia Obama Special Edition.
Mr. Pedott was touched when The President accepted the Chia Obama with a big smile.
The moment was captured in a close-up by the official White House photographer Pete Souza as seen in this link: http://www.flickr.com/photos/whitehouse/3582761113/
Contact:
Kyra Schlebrowski
Joseph Enterprises, Inc.
Tel: 415-397-6992
Email: ks (at) jeiusa (dot) com
# # #