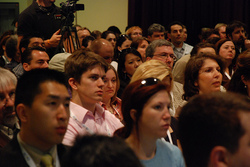 Toronto, ON (PRWEB) June 8, 2009
Search Engine Strategies (SES) Toronto 2009 today announced the addition of Express Site Clinics in the Expo Hall, which will be taught by Shari Thurow, Jennifer Slegg and Ken Jurina. The largest search engine marketing conference and expo in Canada opens today at the Sheraton Centre Toronto.
Now in its sixth year, SES Toronto is considered the definitive digital event for marketers, corporate decision makers, webmasters and search engine marketers (SEMs), including pay per click (PPC) advertisers and search engine optimization (SEO) professionals. The event is organized and programmed in cooperation with the SES Advisory Board, Search Engine Watch and Andrew Goodman, the founder and president of Toronto-based Page Zero Media.
Goodman says, "Don't miss the opportunity to visit the Expo Hall and take in the added bonus of an Express Site Clinic! No need for appointments as these PowerPoint-free, interactive clinics are 'first-come, first-served' offering you a rare chance to get your Web site reviewed live by one of our SES experts."
The Express Site Clinics will be held at Booth #6 in the Expo Hall. They are:
Express Search Usability Clinic -- Get one-on-one advise from Shari Thurow, Founder and SEO Director, Omni Marketing Interactive, for usability, design, copy, link development, and any technical issues that may prevent your Web site from receiving high quality search engine traffic and visitor conversions.
User Friendly Sites That Monetize Well -- Is your site user friendly or are visitors wandering around lost before finally hitting the back button? How clean is your content and is it engaging for your readers? Are your on-site ads suffering from banner blindness or can they be placed in a better position to increase revenue without alienating visitors by being too blatant? Get tips from Jennifer Slegg, CEO, JenSense.com, on how to make the best user friendly website that also monetizes well for you and your advertisers, so you can find the happy medium between a well optimized, user friendly site and one that monetizes well.
Is Your Website Clicking On All Cylinders? -- Are you scratching your head as to how to further improve the SEO or usability of your website? The Express Clinic with Ken Jurina, President and Co-founder, Epiar, will help you get an on the spot audit of your website identifying the good, bad and the ugly. Learn what you're doing right and where there's room for improvement. Some small changes could get you some big results!
For more information about SES Toronto 2009, go to rates and registration details. To follow news about SES Toronto 2009 on Twitter, go to http://twitter.com/SES_Toronto.
About SES
Incisive Media's Search Engine Strategies is a leading global conference and training series focused on search engine optimization and search engine marketing. Other Incisive resources for interactive marketers include Search Engine Watch, which provides news and information about search, analysis of the search engine industry, and tools for improving search marketing effectiveness; and ClickZ, which provides digital marketing news, information, commentary, advice, opinion and research.
Incisive Media is a leading global provider of specialized business news and information, in print, in person and online. The company's principal markets include financial services, legal services, commercial real estate, marketing services and risk management. Incisive Media's market-leading brands include Accountancy Age, Computing, Investment Week, Legal Week, LegalTech, Post, Real Estate Forum, Risk, Search Engine Strategies and The American Lawyer.
###