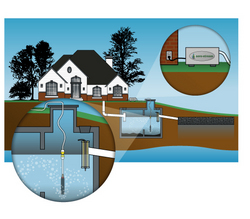 At best, these products simply do not work as well
Hartland, WI (PRWEB) June 10, 2009
With the increasing success of the Aero-Stream® aerobic septic system restoration process, several unreliable -- and potentially hazardous -- knock-off products have sprung up recently. These products DO NOT provide a 12-month unconditional guarantee, offer a patented process, have a success rate of 95% or necessarily meet the National Electric Code (NEC) requirements as a permanent outdoor appliance. In addition, they MAY NOT be listed by Underwriters Laboratories® (UL) as a permanent outdoor appliance. "At best, these products simply do not work as well," explains Karl K. Holt, president of Aero-Stream® LLC, "and at worst, consumers are risking their septic systems -- and dollars -- by ordering something from an unreliable company."
The Aero-Stream® Remediator™ was engineered and tested extensively before it was put on the market. The process and system are protected by three patents and one pending international patent. But that's not enough to stop unconscionable opportunists from trying to "rip off" the design and duplicate it illegally. "We are systematically addressing these infringers, and we are investigating these infringement issues on a case by case basis," explains Holt. "They will not be taken lightly. But we want to warn consumers through the media. We have perfected the Aero-Stream® Remediator™ over more than five years. Aero-Stream® LLC is accredited by the Better Business Bureau with an A+ rating and is approved in the state of Wisconsin by the Department of Commerce for repairing/restoring septic systems. RatePoint, Inc., the leading provider of online customer feedback, has given Aero-Stream® BOTH the Business Excellence and the Consumer Approved awards. We also have earned the Handyman Club of America seal of approval. We are an established and reputable manufacturer with a track record of excellent customer service."
Aero-Stream® also is recognized on the Environmental Protection Agency (EPA)'s New England Center for Environmental Industry and Technology site for having a beneficial environmental impact: http://www.epa.gov/NE/assistance/ceitts/wastewater/techs/aerostream.html:
"The Aero-Stream® product resolves all health and environmental issues related to failing or failed septic systems. Symptoms such as surface ponding above the field or tank are eliminated as well as sewage back-ups into the building. The Aero-Stream® system also eliminates the issue of storm water run-off during absorption component replacement by negating the need for replacement. The process reduces the BOD5 by approximately 80%, reduces TSS by approximately 30%, Fecal Coli form Bacteria by approximately 90% or more and reduces Nitrate levels by approximately 95%."
"On the one hand, imitation is a form of flattery," says Holt. "But these knock off products are potentially hazardous and damaging. You can make a product that looks something like ours but is not properly engineered or backed up by research and testing. In addition, consumers need to understand that besides risking both money and safety, purchasing a product that infringes on a patent is illegal."
For the four million homeowners, who are faced with septic system failure and replacement on an annual basis, the Aero-Stream® Remediator™ offers an amazing and inexpensive solution. Aero-Stream® LLC is a national leader in residential water and wastewater treatment, http://www.aero-stream.com, and manufactures the best patented, proven and guaranteed™ septic system remediation solution on the market today. "The Aero-Stream® remediation process has been installed in virtually every system configuration and soil type combination and all organic or synthetic distribution component designs and materials," says Holt. "The Aero-Stream® Remediator™ has an established track record of success and has saved homeowners thousands of dollars nationwide."
The Private On-sight Wastewater Treatment System (POWTS) is perhaps the least understood or maintained system on a homeowner's property. "Our goal is to educate homeowners about their systems, emphasize the importance of proper maintenance and provide a cost-saving alternative for systems beginning to show signs of trouble," says Holt. Unfortunately there are a lot of less than scientific -- and in some cases downright disreputable or harmful solutions -- being offered to desperate homeowners. Aero-Stream® LLC is committed to developing practical, scientifically-engineered solutions to private wastewater treatment system problems."
Engineer & Inventor
Holt graduated with a Bachelor of Science degree in Mechanical Engineering Technology from the Milwaukee School of Engineering. His career has taken him inside numerous big-name companies, including Harley-Davidson Motor Company, Master Lock, STRATTEC, Western Industries, Bolens/Garden Way, Lawn-Boy, Kohler Company, and Outboard Marine Corporation. He has several other U.S. and international patents across diverse products and processes, in addition to the three for Aero-Stream®. "I like the challenge of designing and developing products and systems that are better, faster, smarter and more cost-effective," Holt explains.
For photos, more information about Aero-Stream® LLC or to set up an interview, phone Branwyn Rhodes, 262-252-3213 or 262-538-4000.
# # #