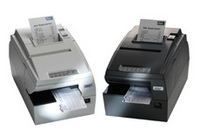 Star continues its trend of 'Freedom of Choice' for its customers
Edison, NJ (PRWEB) June 10, 2009
Star Micronics is proud to announce a major extension of its product line up; the HSP7000 Multifunction (hybrid) Printer Series. The HSP7000 Series is designed to assist and empower users who want to extend the capabilities of their current system.
Star Micronics has developed the best value solution for markets that utilize the three (3) primary functions of a multistation printer:

Read the check's MICR reliably
Endorse checks without jams
Print a receipt as fast as possible
The HSP7000 Printer Series is comprised of the HSP7743, HSP7643 and HSP7543 printer models. "Star continues its trend of 'Freedom of Choice' for its customers," said Michael Hanson, Vice President, Star Micronics America, Inc. "The HSP7643 and HSP7543 were designed specifically for customers who require either one-pass MICR with check franking or have an application that relies heavily on slip validation. The HSP7743, meets the needs of customers who utilize MICR and check endorsing. Star is able to offer a choice based on the customers' need."
The HSP7000 Printer Series combines key features from Star's celebrated range of products, including the speed and reliability of the market leading TSP700 Series, and the engine from the high speed SP700 dot matrix printer. Star is bringing over 30 years of "know-how" in POS to the HSP7000 Series; resulting in customers receiving the features they need with the reliability they demand, minus the overhead of unnecessary features and cost. As with all Star Micronics products, Star is committed to providing the best customer experience. When purchasing a HSP7000 printer model, you will receive all drivers needed for legacy and contemporary applications, including: OPOS, JavaPOS, Linus, XP™ SP2 and SP3, Mac™ OS X. In addition, the highly acclaimed Star development kit is also included, to help you quickly implement additional functionality. The HSP7000 Printer Series also supports the ESC/POS emulation making this printer compatible with many existing popular industry applications in retail, grocery and banking. The HSP7000 Series of printers are available in Putty or Gray colors with USB, PoweredUSB, Serial, Parallel or Ethernet (100BASE-TX/10BASE-T) interfaces. The HSP7000 Series comes standard with a three (3) year limited warranty. For a greater piece of mind, Star also offers Extend-A-Star™ and Swap-A-Star™ warranty services. The Extend-A-Star program further extends Star's standard service program with a bumper-to-bumper warranty and prompt printer repairs. The Swap-A-Star service program replaces a malfunctioning printer by the next business day. The HSP7000 Printer Series is a simple, easy to use multifunction printer models with high reliability and high MICR reading accuracy. It was designed with the "Functions You Need at the Price You Can Afford".
About Star Micronics
Star Micronics America, Inc., is a subsidiary of Star Micronics Company Ltd., a world-leading producer of small printers, audio components, high-precision machine tools, and precision parts. Star Micronics Company Ltd., is ranked as one of the Top 50 "Most Stable" Japanese Companies on the Japanese Nikkei. For more information, visit POS Printer or call 800-782-7636 x107.
###