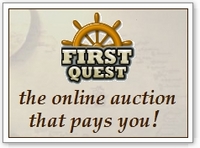 if a member transfers $5,000 to himself; it would cost less than three bucks, with a leading processor it's over $140.00. FirstQuest rewards members not greedy auction sites and processors.
Nashville, Tennessee (PRWEB) June 9, 2009
FirstQuest, Inc. founder Gene Sibbett, says the company will embark on a three-phase rollout. Scheduled to officially launch December 2009, Phase 1 is accepting prelaunch applicants starting today who want to position themselves and any referrals before the company launches a massive media campaign.
FirstQuest features:

Business for honest people--sellers anonymity removed
Innovative virtual marketplace
Free listings for businesses with multiple items
Seller incentive--ship fast, receive points toward cash disbursements
Stay-at-home business that supplements members financial needs
Free support system
The support system is web driven with continual updates. The company is also recruiting hundreds of sharp business minded Directors so members can access real live local people for any issue.
Phase 2 will work exactly as other online auction giants but FirstQuest will share 50% of the profits with active members. Sibbett says the members have full control of their own money. FirstQuest's payment processor charges 1% or less. Compare that to a leading payment processor at about 3%. And Sibbett claims; "if a member transfers $5,000 to himself; it would cost less than three bucks, with a leading processor it's over $140.00. FirstQuest rewards members not greedy auction sites and processors."
Gene Sibbett's name is synonymous with producing Nashville artists, including artists with top 10 hits. So why venture into this type of business? According to Mark Price, a company spokesperson, Sibbett is an entrepreneur and market studies & plans for this venture began over ten years ago.
Price says there are online auction companies making billions but many members have been forced out due to high fees. "When fees are too high it weakens the sellers bottom line. FirstQuest will expand the bottom line not weaken it."
FirstQuest won't be encumbered to limited product lines because the company won't sell products--members will. FirstQuest simply provides a platform for people to conduct business then collects the listing fees, sales commissions, auction upgrades & advertising dollars then distributes monies to the active members. The minimum requirement for Virtual Marketers to qualify to receive commissions is less than two dollars a month.
The third phase being unveiled in 2010 includes products & services in local test markets. Whether a member buys gasoline, groceries, dinner, or goes to a movie it will credit through their FirstQuest account. In addition the company will unveil a unique concept that builds members immediate and retirement funds automatically--without spending a dime more than they do now.
Price also states, "This business is perfect for small and home based businesses looking to increase their sales base or for the network marketer looking for additional income." "Members have the opportunity for part-time or full-time income with their sales or a referral organization paying residual income." "If members seek $400 or $40,000 a month that opportunity is there."
Price concluded by saying, "It's a worn out term but this truly is a ground floor opportunity. Anyone who's ever been involved in online auctions or direct marketing will understand this program and will not want to miss out, particularly since the leads from the media campaign will be given to prelaunch members."
In an industry generating $270 billion dollars a year FirstQuest is garnering a lot of interest. Throw in a compensation plan and instant payments to members and one can understand the excitement.
All buyers & sellers can signup for free. Those planning to participate in the commission program as Virtual Marketers will pay a one-time $25 accounting fee but the company is waiving that fee until July 6th so interested parties may signup now and may refer others to the program, which will bolster future earnings.
Interested Entrepreneurs or Consumers can visit http://prelaunch-USA.com to get more information or participate in the company prelaunch.
Copyright © 2009 FirstQuest, Inc. All rights reserved.
###