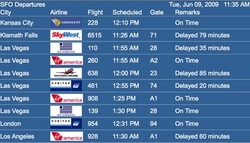 FlightStats global flight data and easy integration will help us deliver flight status displays for any of our properties with minimal effort and expense
Portland, OR (PRWEB) June 10, 2009
FlightStats today announced the availability of new Web services that simplify the integration of current airport departure and arrival information into digital signage installations in hotels, conference centers and airports. The new flight information display system (or FIDS) services come in two forms - highly configurable widgets that require very little effort to integrate and FIDS application programming interfaces or APIs. These two new methods complement FlightStats existing APIs that have already been used by many leading signage developers.
Digital signage is a rapidly growing industry across the hotel, retail, and transportation sectors. Signage shipments in 2012 are expected to be triple the number shipped in 2008 with hotels among the fastest growing segments, according to iSuppli, an analyst firm that tracks the signage industry. As a result, the display of airport-like flight information for the convenience of hotel guests is in high demand.
The FlightStats FIDS widget is an HTML component that can be easily added to most digital signage software solutions. One simply includes the widget HTML code as a piece of content. The widget content can be rotated in and out with other content, and share screen space with other information and advertising. The FIDS widget updates automatically by making calls to FlightStats every 5 minutes for the latest flight information and displays the flights at configurable time periods much like the flight displays in airport terminals.
The look and feel of the widget is controlled via the FlightStats FIDS configuration tool. In addition to controlling the look and feel, users have control over the flight information being displayed - what columns are displayed, the time format, sort order, etc. Additional controls let the widget show or exclude specified airlines, control the desired arrival/departure time intervals, specify how long to show flights after they've departed, or how long prior to the scheduled departure time a flight should be shown.
If additional control over the presentation of the flight data is necessary, developers can use the new FlightStats FIDS APIs and build the presentation layer to their satisfaction while still enjoying the same control over the flight information being displayed.
In addition to the FIDS widget and APIs, FlightStats offers additional Web services, airport delay maps, interactive widgets, and data feeds.
Andrew Hairetis, Business Strategy Manager for IHG, recently completed an implementation of the FlightStats data feed that generated such positive feedback that he plans to roll out the feed to additional hotels within the year. "FlightStats global flight data and easy integration will help us deliver flight status displays for any of our properties with minimal effort and expense," said Mr. Hairetis.
For more details on FlightStats digital signage offerings, please visit:
FlightStats Developer Center FIDS information
About FlightStats:
FlightStats is an airline, airport, and travel information service provided by Conducive Technology Corp. FlightStats tracks nearly 150,000 flights world-wide each day and publishes current data on flights and airports via Web services APIs, RSS feeds and on the FlightStats Web site at http://www.flightstats.com/. Visitors can get flight status, view on-time performance ratings by flight or by airline, check for current airport delay and weather information, and much more. All services are free to site visitors and many services are available as widgets for installation on other web sites or personalized home pages such as iGoogle and Microsoft Live. FlightStats is also a leading provider of flight and itinerary monitoring and messaging services for corporate and online travel agencies, and airlines and is the definitive source for historical airline performance data. Conducive Technology is also a leading supplier of air travel information services to logistics professionals, airlines, airports and industry analysts.
###