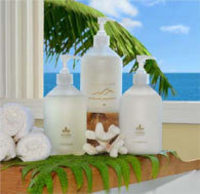 This is one more way we continue to deliver unparalleled service while being environmentally responsible
Poipu, Hawaii (PRWEB) June 9, 2009
The Parrish Collection Kauai announced today that it will begin infusing a touch of the luxury spa experience into all of its Poipu Resort vacation properties by providing Malie Organics Kokee Collection bath amenities. In addition to offering higher quality luxury products, the new amenity program will help The Parrish Collection minimize its impact on the environment.
Being environmentally conscious is ingrained in The Parrish Collection's company philosophy. The new amenity program includes custom-designed and refillable bottles of bath lather, shampoo, conditioner and hand soap. By refilling, there is less consumption of materials and thousands of travel sized bottles are saved from island landfills. "This is one more way we continue to deliver unparalleled service while being environmentally responsible", says Jonathan "JP" Parrish, owner of The Parrish Collection, LLC.
I personally picked the Kokee Collection aroma, named in honor of Hawaii's oldest rainforest, as it captures the crisp, green, refreshing scent of the native maile (pronounced my-lay) vine, one of Kauai's natural gifts. Another reason Parrish chose Malie's Kokee Collection is that Malie donates a percentage of sales from the Kokee Collection to the Kokee Resource Conservation Program, a program dedicated to natural resource management and invasive weed control in the Kokee and Waimea Canyon State Parks.
The Parrish Collection, LLC is a Kauai-based real estate and vacation rental management company originally formed in 1984 as Grantham Resorts & Real Estate and re-branded as The Parrish Collection Kauai in 2007. One of the largest independently owned vacation rental companies on the island, The Parrish Collection specializes in the marketing and rental management of upscale vacation condominiums and homes on Kauai. With a dedicated staff that has worked for the company for years, they are known for their top-quality accommodations and a high level of attentive, friendly service.
###