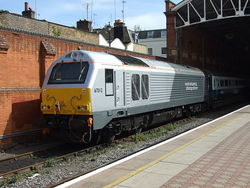 Free on-board Wi-Fi is rapidly becoming expected by today's tech-savvy travelers
Sittingbourne, UK (PRWEB) June 10, 2009
Icomera AB, the world's leading provider of cellular broadband gateways, has announced that Wrexham & Shropshire railway will offer free Wi-Fi services to rail passengers on all trains running between Central London and the UK Midlands. The train operator will install Moovbox M200R mobile broadband gateways to provide Internet connectivity to passenger carriages, while also provisioning power outlets for laptops, netbooks, phones and other devices. The Icomera Moovbox will connect the trains to the Internet using multiple next-generation 3G HSPA (High Speed Packet Access) connections from Vodafone and Orange, at speeds up to several megabits per second. Wrexham & Shropshire is a joint venture between Renaissance Trains and Laing Rail, a wholly owned subsidiary of Deutsche Bahn, providing direct trains from Wrexham, Shrewsbury and Telford to London Marylebone.
"We aim to provide passengers with the very best environment in which they can work or play during their journey with us, " said Andy Hamilton, Managing Director of Wrexham & Shropshire. "Free Internet access is an extremely attractive service for both business and leisure travelers, and the Icomera Moovbox has enabled us to upgrade our fleet cost-effectively with the very latest in communications technology."
The rugged Moovbox M200R gateway supports two simultaneous cellular connections, providing aggregated bandwidth to the train from different mobile networks. Furthermore, utilizing patented SureWAN™ intelligent routing technology, the gateway offers seamless switching between networks as the train moves along its journey, ensuring an always-on connection without interruption to the passenger or on-board systems. The Moovbox M200R is the industry's first rail-certified industrial router to support dual cellular connections with seamless switching, and meets the stringent EN50155 rail standard for shock and vibration, environmental conditions, electromagnetic emissions, and power voltage transients.
"Free on-board Wi-Fi is rapidly becoming expected by today's tech-savvy travelers," said Peter Kingsland, SVP Business Development at Icomera. "But the challenges of delivering a persistent connection are significant. On the Wrexham & Shropshire trains, SureWAN invisibly manages the Vodafone and Orange 3G HSPA cellular links so that should one go down due to network coverage issues, the other link elegantly steps in without interruption. Our technology has been successfully deployed by large operators such as National Express in the UK, SJ in Sweden and Arriva in Denmark, and we are delighted to welcome Shropshire & Wrexham as our latest Moovbox rail customer."
The Moovbox M200R Mobile Broadband Gateway acts as a bridge between a train and high-speed cellular data networks including 3G/HSPA, EV-DO and WiMAX, providing passenger Wi-Fi access and an Ethernet-based local area network (LAN) for connecting on-board systems such as CCTV and passenger information systems. The M200R also has integrated GPS receiver for real-time automatic vehicle location (AVL) via the web-based MoovManage service, which also displays device status, usage statistics and service trends.
About Icomera AB
Established in 1999, Icomera is the world's leading provider of cellular broadband gateways delivering Internet connectivity for passenger transport, public safety and enterprise applications. Icomera technology bridges wide-area cellular networks such as 3G/HSPA and WiMAX with local Wi-Fi and Ethernet access. Icomera's award-winning Moovbox devices are deployed on rail, road and sea serving millions of Wi-Fi connections, and providing real-time high-speed access for fleet tracking and mission critical on-board systems. Icomera reported over 3.7 million sessions by over one million passengers in the twelve months to October 31st 2008 on its in-vehicle Moovbox systems worldwide, a 272% increase over the period. Icomera is headquartered in Sweden with offices in the United Kingdom and the United States, and channel partners worldwide. For more information visit Icomera's web site.
About Wrexham & Shropshire
The Wrexham, Shropshire & Marylebone Railway Company Limited is a joint venture between Renaissance Trains and Laing Rail. Wrexham & Shropshire launched in April 2008 and restored direct links to London from Wrexham, Shrewsbury and Telford. Wrexham & Shropshire has proved highly innovative, becoming the only train company to issue all tickets sold at its website as print-at-home or text tickets. It also became the first train company to abolish peak fares and introduce a flat fare valid on all trains every day.