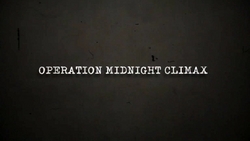 Every great story starts with a compelling 'What If.' In our case, the 'What If' really happened. After reading a bit about the actual Operation Midnight Climax, my mind was buzzing with possibilities
Los Angeles, CA (PRWEB) June 10, 2009
Strange Science LLC has launched an original web series, "Operation Midnight Climax," based on the real CIA mind-control and torture program that took place in brothels during the 1950's. This new series stars Meredith Salenger (Race To Witch Mountain, Dream A Little Dream), Quinton Flynn (Johnny Quest, Metal Gear Solid 2 and 4), Todd Cahoon (Watch Over Me, Nip/Tuck) and Stephanie Lemelin (Kung Fu Panda, Cavemen). The original screenplay was written by Ramesh Thadani (The Thirst: Blood War) and directed by Zach Jordan (Joe Digital, Inc.). The series drew on historical details of the 1977 Senate hearing that brought the MKULTRA program into the spotlight.
"Every great story starts with a compelling 'What If.' In our case, the 'What If' really happened. After reading a bit about the actual Operation Midnight Climax, my mind was buzzing with possibilities," said Thadani.
Produced by Thadani, Jordan and Juan "Rambo" Reynoso (Volcano, Kazaam), the series was shot entirely on the JVC GY-HD100U camera by DP Glenn Sauber (Swaha the Fire Ceremony of 1001 Yogis); also one of the show's producers. Filmed over the course of a few days and using limited resources to bring the 1950's world alive on the small screen, the producers see this effort as only the beginning of a much larger, interactive story for viewers.
"Most of the facts surrounding this program only exist in a few CIA file boxes and in the memories of MKULTRA survivors. We thought this project would make for an incredible experience that could start as a web series and then branch off across other digital and interactive platforms, fueled by people's fascination with CIA conspiracies, the 1950's and America's drug culture," said Jordan.
In an effort to maximize distribution potential and help develop the project as a television series, feature film project and other interactive opportunities, Strange Science has partnered with Joe Digital, Inc. The new series was announced today and can be viewed on strangescience.tv
MKULTRA and the real Operation Midnight Climax
Amidst the climate of the Cold War in 1953 America, the CIA initiated the ruthlessly notorious MKULTRA program. For nearly 25 years, the CIA tested LSD on thousands of Americans from every social background and way of life. Operation Midnight Climax operated under this mind-control program. The project consisted of a web of CIA-run safe houses in San Francisco, Marin, and New York where prostitutes on the CIA payroll were instructed to lure clients back to these safe houses / brothels, where they were given a wide range of substances, including LSD, and monitored behind two-way mirrors. The CIA used Operation Midnight Climax to test new techniques in sexual blackmail, surveillance, and the use of mind-altering drugs in field operations.
Strange Science LLC
Strange Science is a full service production company specializing in original and interactive programming for the digital space. The Company was formed in 2008.
# # #