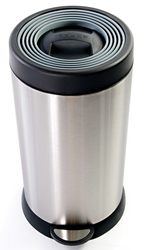 There are no batteries or plugs; consumers just push down on the lid and are able to quickly and easily compact their garbage
Atlanta, GA (PRWEB) June 11, 2009 -
Base Brands™ announced today the launch of Reduce™ Compactor Can, a one-of-a-kind household trash can with a built-in compactor lid that compacts twice the amount of trash in the average home. By pressing down on the patented lid, consumers can easily and safely "push" down their trash, extending the life of their garbage bags, without exposure to mess and harmful bacteria.
The heavy duty stainless steel trash can has a 10.5 gallon capacity, easy-step foot petal and a convenient flip-top lid to keep odors and trash out-of-site. The patented compactor design features silicone to repel odors and a quiet lid enclosure to prevent slamming. The trim stainless steel can sits on a sturdy base and was designed to coordinate with a variety of kitchen settings. The Reduce Compactor Can will be available to ship 9/1/09, in time for the holiday shopping season.
"The Reduce Compactor Can is a perfect example of why I founded Base Brands--it is a creative solution for an everyday activity. Consumers have told us they want a cleaner, more environmentally-friendly way to compact their household trash and our Reduce Compactor Can solves that problem," said Ken Kreafle, CEO of Base Brands. "There are no batteries or plugs; consumers just push down on the lid and are able to quickly and easily compact their garbage," continued Kreafle.
The Reduce Compactor Can is the latest addition to the Reduce (http://www.reduceeveryday.com) family of eco-friendly products designed to be "functionally sleek" while minimizing a consumer's "carbon footprint", or impact on the environment. The line-up includes Reduce WaterWeek™, a set of slim refillable BPA-free plastic and aluminum water bottles designed to fit in a convenient shelf tray for easy weekday hydration at home, office or school, eliminating the need to purchase wasteful disposable water bottles. Additional water bottles within the Reduce family were designed to meet hydration and insulation needs. Made from bamboo, Reduce Melaboo™ is a 100% biodegradable, non-toxic, eco-friendly line of brightly colored plates, bowls and kitchen tools that are both functional and attractive.
About Base Brands
Founded in Atlanta in 2005, Base Brands is a fast growing company that invents creative, practical products to make life easier for a variety of consumer lifestyles. Including innovative and eco-friendly homeware, pet gear, kitchenware, food storage containers and specialty items, the company's inventions continuously challenge category standards with solutions that fill distinct unmet consumer needs. A prime example is the popular Reduce WaterWeek™ line of attractive refillable water bottles that come in a handy shelf tray designed to promote grab-and-go consumption and eliminate the need for wasteful disposable water bottles. Other brands include TANK™, a line of rugged, insulated travel mugs and containers, and Pet Trek™, a line of convenience gear for active pets and their owners. For more information, visit http://www.basebrands.com or call (404) 733-5454.
###