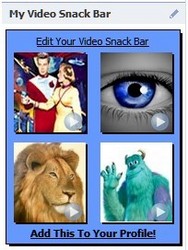 Older adult users bring purchasing power to Facebook, which is a draw for advertisers
Tinley Park, IL (PRWEB) June 15, 2009
Vidsense, The Video Snack Network, today announced the launch of My Video Snack Bar, a new application designed to target Facebook's growing audience of adults 34+. "Online video consumption is a ubiquitous behavior common to all age groups," explains Vidsense CEO Jaffer Ali, "and almost 80% of all online video views are chance encounters.
The conclusion," he adds, "is HD-clear: eight out of ten online videos are consumed as snacks, not the main course. We just thought it was time to allow a broader age range to snack on some great video clips."
The stats support Ali. According to a February 2nd 2009 article in eMarketer, Women 55+ are now the fastest growing Facebook demographic, and almost 25% of all Facebook members are 34 or older, which translates into a target audience nearly 50 million strong - and growing. "Older adult users bring purchasing power to Facebook, which is a draw for advertisers," said Debra Aho Williamson, senior analyst at eMarketer. "So it behooves the social networks to keep bringing them in."
According to Vidsense VP of Publisher Affairs Jeanie Davis, "The My Video Snack Bar Facebook app is uniquely positioned to attract a more mature audience of video snackers in no small part because each Video Snack Bar comes fully stocked with an appetizing array of four video thumbnails culled daily from our archive of more than 80,000 classic TV and movie clips."
The Vidsense goal is to satisfy virtually every video-snack craving for virtually every mature video snacker on Facebook. When a video-hungry visitor clicks on one of the thumbnails, a new window opens and plays the chosen clip. Once satiated, the snacker simply closes the window.
"As we age, more and more of our fondest memories are associated with iconic TV programs and motion pictures," Davis observes. "For those of us old enough to remember the 50s, 60s and 70s, My Video Snack Bar functions like a video stroll down memory lane. What a nice, unanticipated encounter," she concludes. "It's like a reward, and adding it to your Facebook profile couldn't be simpler."
For more information about the My Video Snack Bar Facebook app, please contact:
Contact:
Mary Kolacki, Dir. Of Communications at 708-478-4500 Ext. 109 or email M.Kolacki (at) Vidsense (dotcom)
About Vidsense:
Vidsense, The Video Snack Network, is among the Web's largest video advertising networks. With more than 80,000 advertiser-friendly video clips licensed from major film and TV studios, the Vidsense network of more than 50,000 safe-for-work partner websites delivers millions of qualified visitors directly to advertiser websites on a pure Pay-Per-Visitor (PPV) basis.
# # #