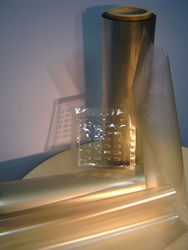 Enfield, CT (PRWEB) June 15, 2009
Oxford Performance Materials (OPM), part of the Arkema Group, France's leading chemicals producer, has introduced OXPEKK® Permetta™ films. These new products have a wide variety of uses in aerospace, industrial, electronic and medical markets. OXPEKK® Permetta™ films offer very high thermal performance, excellent adhesion behavior, excellent abrasion resistance, along with highly selectable electrical properties. In addition, OXPEKK® Permetta™ is inherently flame retardant UL94 V-0 rated, meets OSU 65/65 and is available in medical implant grades supported by extensive ISO 10993 biocompatibility testing. Specific grades are available for long term medical implants. OXPEKK® Permetta™ also is a green product, as it enjoys the benefit of producing no volatile organic compounds when processed.
OXPEKK® Permetta™ is made from the firm's polyetherketoneketone polymer which is produced in an amorphous and crystalline form. The initial offering will include films with a width up to 393 mm and thickness from 25 to 600 microns.
Typical applications include use as an adhesive layer for composites, membrane systems, dielectric film for flex circuits and for metal composite hybrids. OXPEKK® Permetta™ is a suitable adhesive for carbon, glass, aramid, ceramic, PBO and metallic materials. As a true thermoplastic, OXPEKK® Permetta™ can be processed by nip-roll and compression molding. Target applications include aerostructures, safety protective composites, electronics, as well as soundproofing and dampening.
The OXPEKK® Permetta™ products are available in the Americas directly from OPM. In Europe the product will be made available from Velox (http://www.velox.com), the firm's current distributor of granules. In Asia the products will be made available directly from Arkema Japan (http://www.arkema.co.jp).
About OPM
Founded in March 2000, OPM has rapidly become an industry leader in the ultra-high performance thermoplastic polymers market. The firm's versatile OXPEKK® polymers are currently being used in medical, space and defense, semiconductor and industrial markets worldwide. OPM is ISO 9001:2000 and ISO 13485:2003 registered. For additional information, please visit http://www.oxfordpm.com. In February 2009 OPM was acquired by Arkema.
About Arkema
A global chemical company and France's leading chemicals producer, Arkema consists of three strategically related businesses: Vinyl Products, Industrial Chemicals, and Performance Products. Arkema reported sales of 5.7 billion euros in 2007. Arkema has 15,200 employees across over 40 countries and six research centers located in France, the United States and Japan. With internationally recognized brands, Arkema holds leadership positions in its principal markets.
http://www.arkema.com
# # #