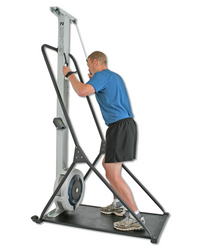 We have fine-tuned our designs for skiing, and are excited to bring this technology to skiers.
Morrisville, VT (Vocus) June 14, 2009 –
Concept2, the leading manufacturer of racing oars and rowing machines, offers Nordic skiers a new way to train without snow: the Concept2 SkiErg. Similar to the Concept2 Indoor Rower, the Concept2 SkiErg helps athletes build strength and endurance in a sport-specific motion. The Concept2 Indoor Rower revolutionized the world of rowing when it was introduced in 1981, quickly becoming the world's best-selling rowing machine.
The Vermont-based company is better known for rowing, but the Founders, brothers Peter and Dick Dreissigacker, have also been competing in Nordic skiing since they started Concept2 in an abandoned dairy barn over thirty years ago. "We first played with the idea of making ski training equipment in 1982, using parts from the Model A Indoor Rower," explains Founder Dick Dreissigacker. "We have fine-tuned our designs for skiing, and are excited to bring this technology to skiers."
An ergometer, or "erg", is a device that measures work. Every SkiErg includes a Performance Monitor that gives skiers accurate, comparable feedback. This allows skiers to assess output, monitor progress, and compare scores with others. "The launch of the SkiErg is exciting," says Peter Dreissigacker, "because it gives skiers the tools that rowers have had for years – a way to test their fitness in a way that is not impacted by terrain or snow conditions."
The SkiErg offers terrific exercise for the entire body. Each pull engages the legs, arms, shoulders and core in a downwards "crunch," using body weight to help accelerate the handles. Each pull finishes by extending the arms down along the hips with knees partly bent.
Nordic skiing is a low-impact, high calorie-burning exercise suitable for all ages and abilities. The motion on the SkiErg can also be easily adapted to athletes with lower leg injuries. Kris Freeman, ten-time National Champion and two-time Olympic Nordic skier, has been using the SkiErg to rehabilitate from recent leg surgery.
The SkiErg with PM3 retails for $730 plus shipping and is available either as a wall-mounted unit (included) or with an optional floor stand ($200 plus shipping). Order by calling (800) 245-5676. More information is available at http://www.concept2.com/ski.
Concept2 was founded by Dick and Peter Dreissigacker in 1976. Fresh from Olympic training, the two brothers designed and manufactured carbon fiber racing oars, then went on to create the world's first air­resistance indoor rower. The Concept2 Indoor Rower has been redesigned and upgraded four times since the Model A was introduced in 1981. The SkiErg, launched in 2009, builds upon Concept2's years of experience in designing and manufacturing high-performance training equipment. For more information about Concept2, visit http://www.concept2.com.
###