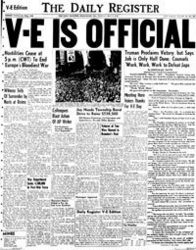 Our front pages encompass all major events in the past two centuries of history
Cedar Rapids, IA (PRWEB) June 17, 2009
NewspaperARCHIVE, the world's largest online newspaper archive, has opened millions of historic front pages for all to read. These front pages cover 3,380 titles and 250 years of history of the United States and the world. Newspapers covering events such as the Civil War, the first moon landing, the inauguration of every U.S. President and the fall of the Berlin Wall are all presented as they were published.
"Our front pages encompass all major events in the past two centuries of history," said Stephen Carr, Search Engine Marketing & Writer for NewspaperARCHIVE. "With historical headlines and photos, each front page is visually arresting and a great resource for historians, researchers, students and writers - or anyone wondering what the headlines read on their Birthday."
The NewspaperARCHIVE search engine allows visitors to search only the front pages or a mix of front pages and other valuable newspaper pages. Visitors and members alike are encouraged to share these pages on their social networking sites, web pages, and blogs.
"One of the most fascinating elements of a newspaper is the front page," said Jeffrey Kiley, General Manager for NewspaperARCHIVE. "Discovering what the world considered the most important news of the day gives a unique insight into history, and we have unlocked millions of these 'Headline News' items for the world to read."
Visitors may also sign up for the NewspaperARCHIVE Free Membership. Free Membership, requiring only a valid email address, allows members to view the entire archive of front pages as well as a number of NewspaperARCHIVE Standard Newspaper Content pages each day, giving them millions of additional articles beyond the front page.
The new release will not affect NewspaperARCHIVE Premium Members. Dedicated genealogists, researchers, and anyone who would benefit from the depth of information available in the complete archive will still find the incredible value and great quality content they are accustomed to. Premium Membership allows members an unlimited number of page views for every newspaper page in the entire NewspaperARCHIVE collection, allowing access to the entire archive of historical newspapers.
The complete Front Page archives can be explored at http://www.newspaperarchive.com.
The NewspaperARCHIVE newspapers cover history from 1759 to 2009, and span all 50 U.S. states as well as several countries throughout the world. They cover the past of 861 cities and towns and the lives of those who lived in them.
Press interested in learning more are encouraged to contact Stephen Carr at scarr (at) newspaperarchive.com.
About NewspaperARCHIVE.com:
In 1999, Heritage Microfilm launched the brand NewspaperARCHIVE.com, the world's largest historical newspaper database online. NewspaperARCHIVE.com contains tens of millions of newspaper pages from 1759 to present, spanning almost 3,000 newspaper titles and 762 cities. Every newspaper in the archive is fully searchable by keyword and date making it easy to quickly explore historical content.
###