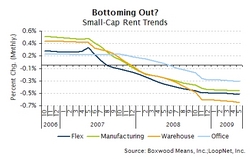 With continued weakness and disruption in the larger commercial real estate property and capital markets - not to mention the dour economic and employment picture - it may seem unreasonable, if not premature to sound the depths of the small-cap market
Stamford, CT (PRWEB) June 17, 2009
Though rents for small industrial and office properties continue to drop at the fastest rate since the beginning of the downturn, the velocity of decline has finally stopped accelerating. According to the latest monthly small-cap research from Boxwood Means Inc., U.S. industrial asking rents fell 0.61% in May to an average of $7.63 per sq. ft. and office rents eased by 0.27% to $18.21 per sq. ft. Rents have fallen for 18 consecutive months as the pace of decline has reached peak levels. Nevertheless, negative rent growth has flattened out since the beginning of the year, offering fresh evidence that a market bottom may be near for this hybrid sector.
The small-cap market of industrial, office and retail properties under 50,000 sq. ft. closely tracks the performance of the residential housing market, even more so than it does the larger commercial property market. So far this year the residential housing market is showing signs of stabilization: existing home sales volume and prices are up 4.2% and 3.3% since January, respectively, according to data from the National Association of Realtors. It follows then that the small commercial market, which is highly dependent on neighborhood-based businesses and residential communities, might also be finding a market floor.
"With continued weakness and disruption in the larger commercial real estate property and capital markets - not to mention the dour economic and employment picture - it may seem unreasonable, if not premature to sound the depths of the small-cap market," stated Randy Fuchs, principal and co-founder of Boxwood. "Yet, it's undeniable that this sector has historically moved in lockstep with the housing market, and very early signals from both markets suggest that change is afoot."
Financing availability has been a differentiator that has propped up the small-cap sector. Small commercial landlords have generally been able to obtain financing for their properties from small local and regional banks, thrifts and credit unions. In so doing, these owners have been able to sidestep the funding challenges and distress that larger or institutionally-oriented property owners have faced.
Even so, the recession has touched all shores, with small-cap industrial rents decreasing 1.21% over the last three months and 5.64% since last May. Among the major industrial subcategories, rents for manufacturing space have performed best, with losses of 4.09% year on year to $8.53 per sq. ft. Flex properties have declined 4.91% to $9.23 per sq. ft., while warehouse rents fared the worst, down 5.52% to $7.92 per sq. ft.
These rent declines have varied by region as well. Industrial rent losses were most severe in the Southwest during May, off 1.00% and 1.96% over the last three months as the challenges facing places like Phoenix and Las Vegas extended to primary centers in Texas and Colorado. Year-on-year rents have also decreased here by a whopping 8.40%, followed by the Southeast with losses of 6.64% that are attributed in great part to weak Florida markets. Clearly, with its primary reliance on the production and consumption of goods, the industrial sector will face headwinds until U.S. economic growth resumes.
On the other hand, small-cap office rents, which have been relatively unscathed during this recession due to a smaller exposure to large financial and professional services firms, lost only 0.54% nationwide over three months and 2.22% over 12 months. However, here again the Southeast and Southwest have under-performed among the regions with declines of nearly 5% for the last 12 months.
Boxwood Means, Inc. (http://www.boxwoodmeans.com) is a Stamford, CT- based real estate research and consulting firm providing quantitatively-oriented solutions for the investment, valuation and risk management needs of a diverse base of real estate and investment firms in the U.S. and Canada. Boxwood compiles small commercial property statistics and trends for retail, office and industrial properties in over 80 U.S. metropolitan areas through its partnership with LoopNet, Inc.
Contact: Randy Fuchs, Principal
Telephone: 203-653-4100
Email: randy.fuchs(at)boxwoodmeans.com
###