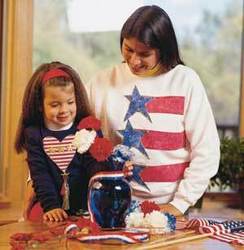 Everyone loves the 4th of July and all the festivities surrounding it
Des Moines, IA (PRWEB) June 17, 2009
With 4th of July on the horizon, Better Homes and Gardens® magazine and BHG.com have come up with 4th of July desserts and grilling recipes and unique 4th of July crafts and decoration ideas. There is also information on 4th of July traditions, such as the histories of the U.S. flag, the national anthem and the Declaration of Independence.
"Everyone loves the 4th of July and all the festivities surrounding it," said Debra Steilen, Senior Holidays Editor, BHG.com. "We've loaded our site with everything to make the holiday even more fun and enjoyable. There are recipes for the cook, easy-to-make crafts for kids and adults, and even patriotic songs for the 4th of July party."
For complete 4th of July resources, visit:
Grilling recipes for the cookout, including meat, appetizers and side dishes. You'll find recipes for burgers, grilled fish, grilled veggie platters and lots of others that will be useful for the entire summer.
4th of July recipes, including menus for 4th of July barbeque parties and picnics. You'll find an all-American backyard entertaining menu with detailed do-ahead recipes for appetizers, main courses, side dishes and desserts.
Festive 4th of July desserts, including red, white and blue sweets. You'll find many creative and unique desserts, enough recipes to make a complete 4th of July dessert buffet.
4th of July crafts for kids and adults, including decorative painting and needlework. You'll find six easy-to-make fun flags for hanging in the house and around the yard.
Decorating ideas for the house and table, including patriotic pillows and quilts. You'll find red, white and blue color schemes for just about everything for the home.
About BHG.com
Developed by the experts at Better Homes and Gardens magazine as an interactive companion to the print edition, BHG.com is the premiere home and family site on the Web. BHG.com is for people interested in turning home, cooking, and gardening inspiration into action.
BHG.com is focused on decorating, building and remodeling, crafts, entertaining, cooking, and gardening. It also has extensive information for women and families. In addition to providing useful tools and advice, BHG.com's trusted experts keep visitors updated on the latest developments and trends around home and garden. BHG.com was designed with real people in mind. It has easy-to-use interactive tools, clear visuals, step-by-step instructions, and money-saving suggestions. It makes life easier and more enjoyable.
###