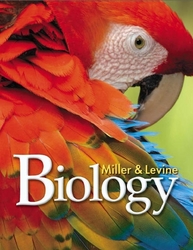 This award validates the real-world approach to teaching high school biology that our world-renowned authors Ken Miller and Joe Levine bring to the classroom. This new edition of 'Miller & Levine Biology' exemplifies our vision for the way that today's technology allows learning to be personalized for all students
Boston, MA (PRWEB) June 17, 2009
"Miller and Levine Biology," the new edition of the world's bestselling high school biology program, took top honors for its innovative digital path and overall high school science curriculum in the 2009 Association of Educational Publishers (AEP) Awards. Named for its two internationally renowned scientist-authors, Dr. Kenneth Miller and Dr. Joseph Levine, the new biology curriculum from Pearson takes a bold approach to science instruction, combining the power of a robust digital learning path with a proven foundation of academic success.
Announced last week in Washington, D.C., the educational publishing industry's Distinguished Achievement Awards honored "Miller & Levine Biology" in both its print and digital categories. "Miller & Levine Biology's" innovative digital path is the winner of the award program's new category - "Technology Innovations, Websites" and the program also won the "Science Curriculum for Grades 9-12" category. The Distinguished Achievement Awards recognize the best educational resources in the categories of Curriculum, Periodicals, Professional Development and Technology Innovations.
"This award validates the real-world approach to teaching high school biology that our world-renowned authors Ken Miller and Joe Levine bring to the classroom. This new edition of 'Miller & Levine Biology' exemplifies our vision for the way that today's technology allows learning to be personalized for all students," said Lynda Cloud, Pearson's Senior Vice President for Science. "AEP's recognition of the high educational quality of both the print and digital components of our bestselling high school biology program reinforces our belief that it is critical to provide schools and teachers with high quality curriculum in various formats so that they can choose what best meets the diverse needs of their students."
Launched in late 2008 and quickly being adopted by hundreds of schools around the country, the new "Miller & Levine Biology" aims to help all students learn the big ideas and science concepts, regardless of their learning style or ability. Customized curriculum packages allow educators to select the learning solution that fits the needs of their individual classrooms. Through Biology.com, the program's compelling digital path, students meet their partners on their adventure into the world of science - a team of young "ecogeek" scientists who have created real-life experiences infusing curriculum topics with new intrigue and relevance for students. Their "Untamed Science" videos offer an ingenious blend of energy, enthusiasm and solid scientific knowledge and biology that engage students as they explore their world. The program's dynamic digital path also offers students and teachers a wealth of resources and engaging activities, including complete online student and teacher editions of the textbooks, editable worksheets, interactive study guides, fun science games and online assessments.
"Ken and I developed our new program to help science teachers address the diversity of student learning needs and the depth of new science standards while also making the science more tangible and real for students," said co-author Joe Levine. "We are especially honored to receive these two awards from the Association of Educational Publishers as combined they are further validation of the importance of utilizing new technologies to improve student achievement."
For more information about "Miller & Levine Biology," go to http://www.Biology.com or follow "UntamedScience" or "MillerandLevine" on Twitter.
About the AEP Awards
For more than four decades, the AEP Awards have honored outstanding resources for teaching and learning. One of the largest and longest running awards programs for educational products, the AEP Awards aim to give credit and recognition to the organizations that are leading the way in the field of educational products and to set benchmarks to which the rest of the industry can aspire.
AEP Award winners are honored in June at the Annual AEP Summit in Washington, D.C. Beacon winners receive their framed certificates during the Beacon Luncheon; DAA and Golden Lamp winners are honored at the black tie-optional AEP Awards Banquet & Gala.
About AEP
AEP is a nonprofit organization that serves and advances the industry of supplemental educational publishing, the membership of AEP represents the breadth of educational content developers delivering progressive educational products in all media and for any educational setting.
AEP's thought leadership and market insight have created ground-breaking opportunities to its members to collaborate, network and partner with each other as well as to acquire a voice in the development of government education policy. Founded in 1895, AEP now assists its members in navigating the global realities of educational publishing in the 21st Century. For more information, visit http://www.AEPweb.org.
About Pearson
Pearson (NYSE: PSO), the global leader in education and education technology, reaches and engages today's digital natives with effective and personalized learning, as well as dedicated professional development for their teachers. This commitment is demonstrated in the company's investment in innovative print and digital education materials for preK through professional learning, student information systems and learning management systems, teacher development, career certification programs, and testing and assessment products that set the standard for the industry. The company's respected brands include Scott Foresman, Prentice Hall, Addison Wesley, Benjamin Cummings, the Stanford Achievement Test series, the Wechsler family of assessments, SuccessNet, MyLabs, PowerSchool, SuccessMaker and many others. Pearson's comprehensive offerings help inform targeted instruction and intervention so that success is within reach of every student at every level of education. Pearson's commitment to education for all is supported by the global charitable giving initiatives of the Pearson Foundation. Pearson's other primary businesses include the Financial Times Group and the Penguin Group. For more information, go to http://www.pearson.com.
For more information, press only:
Kate Miller, Pearson, 800-745-8489, kate.miller(at)pearson.com
###