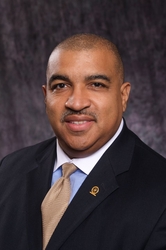 40 Years, One NABA: Honoring Our Past, Investing in Our Future
Greenbelt, MD (PRWEB) June 17, 2009
The National Association of Black Accountants, Inc., will host its 38th Annual National Convention & Diversity Recruitment EXPO, June 16-20 at the Hilton Riverside New Orleans. This year's convention theme -- "40 Years, One NABA: Honoring Our Past, Investing in Our Future" -- encompasses the organization's mission to continue fortifying its technical foundation while connecting to larger global and societal missions.
Over these five days, Walter J. Smith, CPA, NABA national president and CEO (recently noted as being one of Ebony Magazine's 2009 Most Influential Organization Leaders) will lead his membership in a thorough, in-depth series of technical and educational sessions to give voice and provide resources for African-Americans in the accounting and financial services professions around issues of career advancement, entrepreneurship, navigating Corporate America and non-profit leadership.
Convention highlights include:

The 3rd Annual CPA Examination Summit, NABA's think tank which will be a follow up meeting and discussion to last year's summit.
Angela Avant, CPA, Partner in Charge of Diversity at KPMG LLP; Kim Griffin-Hunter, CPA, Partner, Deloitte, Ramona Henderson Pearson, CPA, President, Ramona Pearson, CPA, PC; Frank Ross, CPA, Co-Founder, First NABA President, retired partner, KPMG LLP; Walter J. Smith, CPA; National President and CEO, NABA; Michael Winston, CPA, Esq., CPA, NABA Co-Founder will participate in the annual Public Forum; this year's panel discussion will be an in-depth discussion entitled, "The Evolution of Blacks in Accounting…NABA Impact". NABA's Founders, Past National Presidents and current National President will sound off and provide an insider's perspective on the evolution of NABA, the history, the vision, and the future.-- Soledad O'Brien, of CNN Worldwide will be the moderator. This event took place on Tuesday, June 16, 2009.
NABA's 2009 Annual Awards Celebration Banquet will feature a keynote address by Roland S. Martin. Roland S. Martin is a well known CNN contributor/analyst, and is the author of the national best seller "Speak, Brother! A Black Man's View America". This event will take place on Saturday, June 20, 2009.
2009 Diversity Recruitment EXPO, where registrants will have the opportunity to seek out career advancement opportunities with nearly 100 "Fortune 500" and other companies, such as Bank of America, Deloitte, Ernst & Young LLP, KPMG LLP, Microsoft Corporation, PricewaterhouseCoopers LLP, and Wal-Mart, among others. The EXPO will take place June 18-19, 2009.
A Professional Etiquette Luncheon, Student Case Study Competition and Scholarship Luncheon, where NABA student members will benefit from targeted programming and sessions aimed at bridging the academic with the experiential. Janice Bryant Howroyd, Founder and CEO, Act-1-Group, the largest female minority-owned employment agency in the United States, will deliver the keynote address at the always sold out Scholarship Luncheon on Friday, June 18, 2009.
The 1st Annual NABA Day of Service, Saturday, June 20, 2009, NABA members along with Corporate Partners KPMG LLP and Microsoft will team up to make a difference for the hurricane victims in one New Orleans neighborhood. This initiative will provide an opportunity for NABA members and African-American accounting firms who will descend on New Orleans from across the country to celebrate and commemorate NABA's 40th Anniversary by volunteering for this activity. This event will focus on giving back to the community. United together for a single day of service, the African-American and minority accounting and financial profession will make a huge impact on one of Louisiana's communities.
###