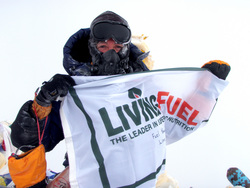 The next day it hit me how wonderful it had been to be on top of the world
Tampa, Florida (PRWEB) June 18, 2009
On top of the world! That's where 52-year-old Lori Schneider stood for 10 exhilarating minutes. Right at that moment, she became the first person with Multiple Sclerosis to climb Mt. Everest and complete the Seven Summits -- climbing the tallest peaks on every continent. Lori is now one of only 25 women in history to complete the Seven Summits and one of only three women over 50 to do so.
Lori attributes her incredible success to a can-do attitude, phenomenal training regimen, and LivingFuel superfoods. She began her amazing adventure in 1993 by climbing Mt. Kilimanjaro. During the next six years she climbed mountains in Africa, Asia, South America, Colorado, France and Switzerland. Just months after being diagnosed with MS in 1999, Lori climbed Aconcagua, the highest peak in South America.
Lori's biggest challenge was Mt. Everest -- the world's highest peak. Her climb began with 12 months of intense training. She began the actual ascent from Everest Base Camp on April 14, 2009, and after five weeks of acclimatizing to the high altitude and difficult climbing, she reached Camp Four at 26,000 feet (8,000 meters).
Summit Day began May 22 at 10:00 p.m. Lori and her team reached the 29,035 foot (8,850 meter) summit of Mount Everest after a grueling 10-and-a-half hour climb in negative four degree cold, 60 mph winds and virtual white-out conditions. She stood on top of the world for 10 minutes and then began her descent -- another dangerous six hours down out of the treacherous Death Zone, where 80% of Everest climbing accidents occur. Lori and her team arrived back safely at Everest Base Camp on May 25 ending the 51-day adventure. The entire experience was stunning and surreal.
"The next day it hit me how wonderful it had been to be on top of the world," says Lori Schneider, 52-year-old mountain climber and motivational speaker.
Lori learned long ago how important it is to supplement the climbing company's high carbohydrate diet with high quality nutrition. Lori's nutritionist and acupuncturist Dr. Julie Casper recommended Living Fuel's products while Lori was training for her most recent climb. Lori began drinking the LivingFuel super smoothies and noticed an overall improvement in her energy levels and general health.
"I like Living Fuel so much better. It gives me high quality nutrition. I won't use anything else. The ingredient list is phenomenal and it tastes great!" Lori continues.
"Lori is clearly an example of living life to its fullest. We congratulate her on all her physical and mental accomplishments," explains Living Fuel Founder and CEO K.C. Craichy. "Her incredible achievements will inspire countless others to overcome obstacles in their own lives."
About Lori Schneider
Schneider is a world class mountain climber and motivational speaker, helping people move beyond their fears and limitations. She is based in Bayfield, Wisconsin. Through her company, Empowerment Though Adventure, Lori offers adventure and climbing experiences for people with MS. For more information, visit http://www.empowermentthroughadventure.com.
About Living Fuel, Inc.
Living Fuel is the leader in superfood nutrition in purity, potency, quality and truth. The company's mission is to change lives with leading-edge, high-end superfoods. Living Fuel's quality products are meticulously designed with integrity and fresh, all-natural, organic ingredients whenever possible. For more information about Living Fuel or its products, visit http://www.livingfuel.com or contact the company directly at (866) 580-3835.
# # #