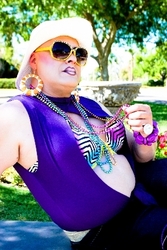 It's Big Mama y'all! And, I am no longer afraid to come out of the closet as a gay Catholic Priest!
Los Angeles, CA (PRWEB) June 18, 2009
Gigantic vibrations are growing even larger with Big Mama Capretta's new hit single 'Big Mama's House' currently #25 on the U.S. Billboard Club Play dance chart. In celebration of Gay Pride Month, Big Mama Capretta reveals the surprise truth about her identity. By day, Capretta is none other than Father Anthony (aka Vincent Capretta), a proud practicing Catholic priest from Columbus, Ohio. By night, Big Mama Capretta is one heck of a fun drag queen performing for her minions!
"It's Big Mama y'all! And, I am no longer afraid to come out of the closet as a gay Catholic Priest!" shouts the 'out-and-proud' Big Mama Capretta aka Father Anthony Capretta. "Thank you everyone for buying, playing and charting 'Big Mama's House.' I am living proof that a person can do anything they set their mind to. We have to love and enjoy ourselves in this world. And, I am enjoying my life being who I am and who God intended me to be! Now, let's DANCE y'all!"
Not only does Big Mama Capretta have a hit song on the Billboard club dance chart, she also recently auditioned for 'America's Got Talent' for this summer's competition. To watch the new Big Mama's House video on YouTube visit: http://www.youtube.com/watch?v=IjREbIMddkM.
The buoyant kitschy track, produced by international dance music producer Rod Carrillo, is making crowds go wild with infatuation. Capretta's unforgettable 'Big Mama's House' single has a complete bump and grind remix package with the likes of Chris Shannon, DJ Kilo, Peter Brown, Tim Schommer, The Perry Twins and Rod Carrillo.
The new hot track and remixes are available at iTunes and Masterbeat.com for purchase.
Make some more room on the dance floor y'all - Big Mama has definitely arrived!
ABOUT CAPRETTA
Capretta began his music career at the age of seven studying music theory and classical guitar at the renown Cleveland Music School Settlement. Winning radio talent contests at the age of twelve led Capretta to vocal scholarship in the Opera Department of the prominent Cleveland Institute of Music. In addition to serving as lead tenor for the Cleveland Civic Light Opera for two seasons, Capretta has held several leading roles in professional and community theater. Capretta was featured at the New Music Seminar in New York City in 1986 in response to his first music video 'Fallin Again'. In 1987, Capretta hit the national Eurobeat charts in the United States on LSA Records with his covers of the disco classics 'I Will Survive' and 'Turn the Beat Around' and again in 1990 with 'Never Knew Love Like This Before'. Capretta hit the European dance charts in 1992 on Loading Bay Records with his rendition of the classic 'It's My Party' and his featured on the Best of Loading Bay High Energy Volume I. Topping the Playboy Cable Channel Hot Rock's chart in 1993 with his #1 steamy music video 'Puerto Rican Sex', Capretta is also known for his successful music video 'Stormy Weather' on ETV and RockAmerica in 1996. Now Capretta resurfaces in 2009 on CM Records with the huge dance floor anthem 'Big Mama's House' produced by International dance music producer Rod Carrillo.
For more information on Capretta please visit: http://www.capretta.co.uk
# # #