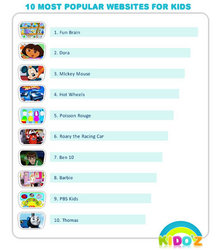 Through KIDO'Z, young children have direct access to hundreds of kids' websites in more than 30 languages in a safe, central place.
Tel Aviv, Israel (PRWEB) June 19, 2009
As there is a seemingly endless supply of child-appropriate websites on the Internet, kids' websites are facing the same challenges as other sites on the net, namely bringing traffic and capturing the users' attention.
In a quest to drive website traffic and increase site popularity, marketers and brands are all doing their best to stand out and attract users, and to convince them to visit their websites. This, however, is quite a complicated task, as young kids visiting sites depend totally on their parents to set up the sites for them.
But what happens when you put all the kids' websites into one place and create easy navigation for children to surf these sites? What happens when you let the kids decide for themselves what their favorites are from a big selection?
This is exactly what happens in KIDO'Z, and what this Kid's Web Environment does is it gives every kids' website a fair chance to make its mark, by letting the kids themselves decide what their most popular websites are, regardless of marketing spending and online efforts.
Websites are added to KIDO'Z by parents and educators from all over the world. The KIDO'Z smart content engine ensures that, in addition to personalizing the content for each kid, all content that has been recently added is getting exposure. This keeps the content fresh for the kids and gives the new content a chance to become popular.
The following lists represent the 10 most visited sites on KIDO'Z by kids from more than 80 countries. "Through KIDO'Z, young children have direct access to hundreds of kids' websites in more than 30 languages in a safe, central place." -- Gai Havkin, CEO.
These websites are identified by colorful eye-catching thumbnails and children simply need to click on the image of their choice to visit the site. Children can also easily add any website to their Favorites section for fast and easy return to the sites that they like the most."
You'll notice that even though some of the big brands are up there, there are also a couple of unique, smaller sites that are making their mark. For example, Fun Brain and Poisson Rouge are listed among the most popular English websites in KIDO'Z, and through KIDO'Z, they are given the opportunity to compete with some of the established big brands. These two sites fall under the educational website category and use learning games and activities to educate children. The popularity of these sites could be indicative of the demand by children for educational and interactive website content.
Below you can find the lists of the most popular sites by languages. These lists, including links to the websites, can be found at http://www.kidoz.net/blog.
Most popular kids' sites in English:
1. Fun Brain
2. Dora
3. Mickey Mouse
4. Hot Wheels
5. Poisson Rouge
6. Roary the Racing Car
7. Ben 10
8. Barbie
9. PBS Kids
10. Thomas
Most popular kids' sites in French:
1. Pocoyo
2. Mila
3. Wumpa le Morse
4. Monsieur Madame
5. Caillou
6. Petite Princesse
7. Petit Ours Brun
8. Bali
9. Clifford
10. Chez Polo
Most popular kids' sites in Spanish:
1. Pocoyo
2. Cartoon Network
3. Jetix
4. Disney Playhouse Spain
5. Discovery Kids
6. Cuentos Interactivos
7. Mundo Nick
8. Wumpa
9. Infantil
10. Barbie
Most popular kids' sites in Italian:
1. Pocoyo
2. Gormiti
3. La Casa di Topolino
4. Tigger & Pooh
5. Manny Tuttofare
6. Little Einsteins
7. Higglytown Heroes
8. Il Circo di Jojo
9. Bunnytown
10. Rolie Polie Olie
KIDO'Z v 1.0 is the first Global Web operating system for small children aged 3-8 years.
With multilingual support in 17 languages, KIDO'Z is already deployed in over 80 countries.
The KIDO'Z Kid's Web Environment is the safe, easy way for young kids to surf sites, watch videos and play games - all in a child-friendly, protected environment, using content that is customized for them, and that is continually enhanced by the parents through the addition of new content. KIDO'Z is fully customizable in terms of security, account settings, and content. The user interface is rich in graphics and imagery, allowing young children to navigate easily, without needing to know how to read or write.
KIDO'Z is available as a free download at http://kidoz.net.
# # #