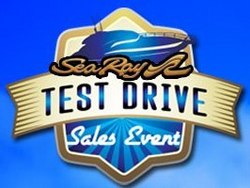 It's a great time to buy a boat
Quincy, MA (PRWEB) June 19, 2009
New England's Sea Ray dealers are partnering up with the crew at Marina Bay on Boston Harbor for an exciting two-day test-drive event, Saturday, June 20 and Sunday, June 21 -- Father's Day. Of course, test drives aren't the only reason to register.
John Greviskis, host of the popular show, "Ship-Shape TV," will be making on-deck appearances to provide advice, and lend expertise to those eyeballing a new Sea Ray for the height of New England summer boating season.
New England Sea Ray Dealers -- Russo Marine, Hyannis Marina, Port Harbor Marine, Irwin Marine and Bassett Boat Co. -- will be displaying 20 models from the '09 Sea Ray line, featuring revolutionary new drive systems from Mercury Marine, including Axius, Zeus and Total Command. All vessels will be in-water and ready to roll when docks open at 10 a.m. Advance registration includes a complimentary gift bag and barbeque.
Event hours run from 10 a.m. to 4 p.m., Saturday, June 20 and Sunday, June 21.
"We're excited to welcome all the New England Sea Ray dealers to Marina Bay," said Marina General Manager, Dave Jensen. "This is a terrific opportunity for boaters to test-drive a Sea Ray and check out the new technology." This event is one in a long series of family-friendly mini-boat shows on the summer schedule at Marina Bay.
Larry Russo, Sr. of Russo Marine has been heavily involved in show planning and logistics. "It's a great time to buy a boat," he said. "Prices are down, and there's some really exciting stuff going on at Sea Ray. It's a perfect time to get out and hit the water for a test-drive."
###