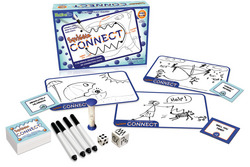 A monkey can do better
Morris Plains, NJ (PRWEB) June 23, 2009
RandomLine is proud to announce their newest game, SQUIGGLE CONNECT. RandomLine creates fun and educational games and activity pads that are ideal for travel, family time and get-togethers. Their award-winning line of products encourage creativity and offers an entertaining play experience. No Noise. No Batteries. Simply Your Imagination.
SQUIGGLE Connect is a side-splitting, hilarious drawing game where players compete by transforming wiggly and wacky lines (aka a SQUIGGLE) into a picture that tells a story. After 60 seconds, players then vote on each others drawings with descriptive voting cards that are sure to bring a tear to your eye. The voting cards, positive and negative, offer either a descriptive praise or a nuance of criticism. "Put that in a doggie bag", "A monkey can do better", "Try drawing with your eyes open", are just a few of the humorous comments. Each card also has a point value and players give them to each other based on their picture. This is where the real entertainment begins! SQUIGGLE Connect is ideal for ages 8 to 108 and comes with 6 dry erase tablets, dry-erase markers, a "dot" die, a "connect" die, 84 voting cards and sand timer. See more at http://RandomLine.com
To start, each player gets a dry-erase tablet and marker. Before each round, players also receive 2 voting cards, a positive and a negative. The "dot" die is rolled first to determine the number of dots players draw on their tablet. Next, depending on how many dots, players have to connect those dots with different type of lines (straight, curved, wavy, jagged, looped, or a line of their choice) which is determined by the" connect" die. The idea is to create a continuous wacky line. Players then have 60 seconds to create a picture. When all pictures are complete, each player gets to explain their drawing using as much or little description as necessary . . . and the fun begins! Each player gets to give only one of their 2 voting cards to another player. The player with the highest score at the end of 5 rounds wins.
SQUIGGLE Connect "is a great addition to the SQUIGGLE family as it continues to foster the love of imaginative play" says the creator, John Kiely. The game is not about who can be the best artist but rather taping into a person's imagination to capture a vision of what can be created from a random line. It's perfect to enhance family time as well as great entertainment when friends gather. SQUIGGLE Connect will be available at specialty toy stores in the US and Canada this June 2009.
RandomLine is the creators of the Award-Winning SQUIGGLE® Series. Their games and activity are available in the specialty market, educational stores, book stores, gift shops and museums throughout the United States, Canada and the UK. Visit http://www.randomline.com
Contact Information:
Victoria Kiely
888-234-3729
http://www.Randomline.com
###