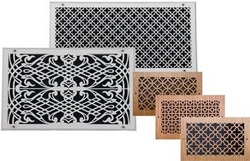 The room that looks exactly the way an owner wants is priceless
Anaheim, CA (PRWEB) June 23, 2009
Bad interior design wrecks havoc on emotional health. And rough steel AC vents are among the worst offenders. But there is a way for every homeowner, builder, remodeler, contractor or interior designer to easily--and affordably--improve the décor of any dwelling.
"The room that looks exactly the way an owner wants is priceless," says Leigh Freedman, owner of Pattern Cut, Inc., the only company in the world that laser cuts wood into any individualized patterned size and shape. "You can't put a price tag on how an environment makes a person feel."
That's the opinion of the newly remodeled Bowery Hotel in New York. The landmark chose richly handcrafted Pattern Cut, Inc. AC vent covers for their 650 guest rooms. Smooth as silk maple veneer replaces steel for a refined, seamless look that's best appreciated with the grilles nestled in place. The luxury hotel joins The Plaza, The Jane, Home & Garden TV (HGTV) and Condé Nast's Domino magazine to feature Pattern Cut's work.
From monograms, to message quotes, hand-sketched drawings to family crests, if you can dream it, Pattern Cut will cut it using only the finest grain wood. Tens of thousands of Pattern Cut, Inc. grilles have been shipped to residential and commercial customers as latticed AC vents, radiator covers, and decorative ceiling and wall coverings to company logos engraved in cabinet panels--like the eye-catching display in the window of a Beverly Hills chocolate confectionary.
The secret to Pattern Cut, Inc.'s success is that its wood product offering is as infinite as there are people who want to express their personality. And contractors find Pattern Cut Inc.'s flexibility provides a practical, achievable solution to irregular vent and register sizes.
"Our Pattern Cut lattice AC grilles are the equivalent of striking pieces of art. I get compliments on them all the time," says Katherine Holland who designed and built her home in Lake Tahoe. "The work is so gorgeous, one could easily be tempted to have Pattern Cut design AC covers where no actual vents exist."
"What's more," says Freedman, "if you're trying to sell your home this summer, covering ugly steel AC vents with custom, affordable lattice grilles immediately sets your home apart from every house on the block. We could help you make that million-dollar sale."
End your metal AC vent design headaches once and for all with custom cut or catalog patterned wood filter grilles. Prices start at just $30. This is the way you want to live. Go here now and see:
Pattern Cut, Inc. is the premiere creator of custom pattern latticed hardwood designs seen in homes, hotels, resorts and commercial buildings worldwide. Unique to Pattern Cut is our precision ability to recreate any design size and shape, capturing every customer's imagination. End uses include AC grilles, radiator grilles, floor/wall registers, cabinets, window covers, speaker covers, entertainment centers, tabletops and ceilings that make each room a celebration of fine decoration. Founded in 2001, Pattern Cut's 10,000 sq. ft. design studio with exclusive 21st Century laser machinery is located in Anaheim, Ca. Visit http://www.patterncut.com or call 1-714-765-8138 for a FREE full color catalog to experience our quality performance and quick results. "Where there's wood, there's Pattern Cut."
###