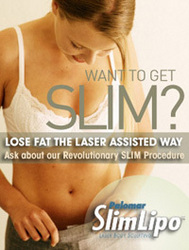 The technique is a real improvement
Duxbury, MA (PRWEB) June 29, 2009
Dr. Christine A. Hamori, board-certified plastic surgeon, is pleased to announce the availability of SlimLipo, an advanced laser-assisted fat removal treatment that is a more advanced alternative to traditional liposuction. The procedure can be completed commonly in under an hour for any given area, and it can be used for abdominal, hip and thigh, arm, facial and neck fat reduction.
According to Dr. Hamori, who treats patients in her Duxbury surgical practice on Boston's South Shore, "SlimLipo offers real improvements over traditional liposuction methods in that SlimLipo gently and efficiently melts fat with laser energy for more dramatic results, and smoother skin. I'm pleased to report my patients have experienced immediate results -- so it may be the perfect summer solution."
Slim Lipo is for men and women, and is designed to ease any unnecessary trauma to the body -- many patients can go to work within a few days. "SLIMLipo is still a surgical procedure," said Dr. Hamori, "and patients should expect to have a discussion about anesthesia options."
SLIM stands for "Selective Laser-Induced Melting" and the SLIM Procedure is unique--its specific laser energy selectively melts fat, contracts collagen and thus tightens skin. "The technique is a real improvement," continued Dr. Hamori. "Compared to traditional methods, patients enjoy smoother skin, more dramatic results, and a faster recovery, so they can get back to summer activities sooner."
Christine A. Hamori, MD, is a board-certified, plastic surgeon who is recognized for her delicate skills in cosmetic enhancements that yield natural-looking results for a healthy, happy lifestyle. Serving Boston's South Shore, Cape Cod and Nantucket, MA, she specializes in breast augmentation/implants, contouring/liposuction, face and neck contouring, facial fillers and Botox® (injectables).
Dr. Hamori's offerings also include the latest in non-surgical technologies such as Thermage™, GentleWaves®, VelaShape™ and more. A full list of available treatments is available on her plastic surgery web site.
Her office is located south of Boston in Duxbury, Massachusetts a convenient location for persons living or traveling this summer to Cape Cod, Nantucket and Martha's Vineyard.
# # #