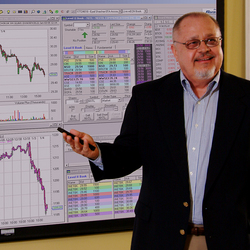 How to Survive & Prosper in 2009 and Beyond
Castle Rock, CO (PRWEB) June 26, 2009
Online Trading Academy's Chief Knowledge Officer, will present his latest speech called "How to Survive & Prosper in 2009 and Beyond" on July 6 and 7, 2009 in three different sessions in Castle Rock CO. The depressed economy and turbulent markets call for diffferent strategies in investing and trading. Mr. O'Donnell shares the wealth of his perspective in this presentation.
John O'Donnell is the Chief Knowledge Officer for Online Trading Academy. In this role he delivers a combination of educational and corporate experience that has been instrumental in making Online Trading Academy one of the premier trading schools in the world. His extensive management and consulting experience has been a key ingredient in Online Trading Academy's fast global growth and industry recognition and awards.
Mr. O'Donnell was a finalist two years in a row for the "Entrepreneur of the Year" award by Inc. magazine in Orange County, California. He has often been featured on financial web portals and television networks such as CNBC, CNN and MarketWatch. Mr. O'Donnell's focus and thoughts on issues such as historic boom/bust business cycles and the potential coming burst of the credit bubble in the "Globalization 3.0 Era" has also been featured in financial focused newspapers and magazines such as The Wall Street Journal, Investors Business Daily, Traders Journal and EQUITIES magazine, just to name a few. Mr. O'Donnell is frequently a keynote speaker at global finance expos including Trade2Win, Online Traders Expo, London IX Expos, Brazil Active Traders Expos, World's First Virtual Online Traders Expo, Canadian Financial Forums, and The MoneyShow.
Mr. O'Donnell received a BS in Science from Southwest Baptist University in 1968. He began his career as a public school teacher and then transitioned to public corporations, working as an investment banker. His background in both education and financial services gives him a unique ability to teach complex financial theories and trading skills to beginner investors and seasoned traders alike.
John's Workshops "How to prosper in 2009 and Beyond) will teach the audience how to prosper in 2009 and beyond by understanding the inner workings of our economy's troubles. He'll explore why the global credit crisis occurred and the anemic impact of the US Fed rate cut programs. We'll help you understand our current economy and markets and what's likely to happen in coming years.
Specific topics include:

How to profit in 2009 by short selling specific assets
Identify market bottoms and what to do when they appear
The role gold will play in 2009 as a safe haven vs. US T-bonds
Why the President's stimulus program will not work
Is capitalism dead in the USA? What will America be more like - the 1930s or 1970's?
Using ETFs that enjoy bull and bear positions with up to three times leverage
And much more
Online Trading Academy's purpose is "transforming lives worldwide through exceptional trading and investing education." It has been in business since 1977 and now operates 25 academies around the world. NASDAQ chose Online Trading Academy as its strategic partner to provide educational content on TotalView®, its premier market data product. For more information about Online Trading Academy's curriculum and history, visit Online Trading Academy's website:
Online Trading Academy provides professional, hands-on education for traders and investors in stocks, options, commodity futures, e-mini futures, and foreign currencies. All courses are conducted in the Academy's laboratory classrooms providing every student with live trading practice and individual attention from instructors. Every instructor is a proven, successful, professional trader who has been certified to conduct Online Trading Academy courses in keeping with Academy quality standards. Courses teach students to trade or invest in whatever timeframe suits them, from day-trading to long-term investing.
Online Trading Academy is the only educational provider that allows students to trade "live" with the Academy's trading account while they are learning. Students need not fear losing their own money while learning to trade in class. Class sizes are small, up to 18 maximum, to provide plenty of individual attention from instructors.
Media interviews can be arranged with John O'Donnell Online on July 6 or 7, 2009. Call 303.325.2776 to arrange.
###