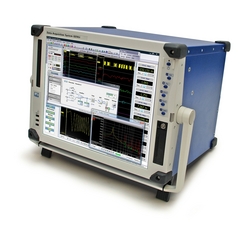 The awards program recognizes cutting-edge solutions in the sensors marketplace
Marlborough, MA (PRWEB) June 28, 2009
HBM (Hottinger Baldwin Messtechnik) today announced that it has been awarded a Silver Sensors "Best of Sensors Expo" award in the data acquisition category for its portable high-speed data acquisition and transient recording system, GEN5i.
The award-winning GEN5i integrates a high-end PC and a state-of-the-art data acquisition system into a single, portable instrument. GEN5i is ready to run "out of the box" and combines unmatched performance with ease of use. The high-speed DAQ and transient recorder features an integrated PC running Windows® Vista Ultimate 64-bit and lab performance with up to 40-channels, as well as up to 100 MS/s per channel in a portable, all-in-one box. Full connectivity ensures easy data back up or transfer, from the office, the lab, the factory floor or even out on the proving ground.
The Sensors "Best of Sensors Expo" awards honored the most exciting new products that were on display at the Sensors Expo & Conference, which took place at the Donald E. Stephens Convention Center in Rosemont, IL. All entries were judged on the basis of potential impact, application, distinctiveness, timeliness and availability.
This panel of judges were comprised of the magazine's editorial staff, members of the editorial advisory board and industry experts including Melanie Martella, executive editor of Sensors; Deborah Lickness, John Deere; and Ed Ramsden, a member of Sensors' editorial advisory board and principal of Sensorlytics LLC.
"The awards program recognizes cutting-edge solutions in the sensors marketplace," said Martella. "All of the nominations demonstrated exceptional innovation, integration and ease-of-use. We believe this year's winners will be leaders in the sensors marketplace and offer our congratulations to the companies recognized."
"We were honored to receive the distinguished Silver Sensors "Best of Sensors Expo" award," said Chantelle Thompson, Marketing Communication Specialist. "This vote of confidence from the Sensors editorial board confirms the significance our data acquisition products hold. HBM is committed to the growth of our products and services and looks forward to future advances which will benefit the test and measurement community."
Learn more about the GEN5i at genesis5i.com.
Learn more about Sensors at sensorsmag.com and Sensors Expo at sensorsexpo.com.
About HBM:
Since 1950, HBM has built a globally-respected reputation in the test and measurement industry, based on the supply of reliable, precision transducers and measurement solutions across a broad range of industries. As a technology and market leader worldwide, the company today offers products and services across the entire measurement spectrum, from virtual to physical testing. Products comprise sensors, instrumentation and data acquisition systems as well as durability, test and analysis software. HBM's global network of sales companies and representatives comprises 27 subsidiaries and sales offices in Europe, the Americas and Asia, with approximately 1,500 employees as well as representation in an additional 40 countries. Learn more at hbm.com.
###