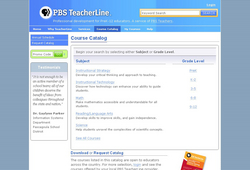 The PBS capstone professional development program has earned ISTE's Seal of Alignment because it helps teachers master the refreshed NETS for Teachers and seamlessly integrate technology into the classroom to engage students and prepare them for their future in a technology-powered world
Arlington, Va. (PRWEB) June 30, 2009
PBS TeacherLine® (http://www.pbs.org/teacherline), the premier provider of online professional development services for preK-12 educators, announced today the PBS TeacherLine ISTE Capstone Certificate Program has been awarded the ISTE NETS•T Seal of Alignment for Development.
"The PBS capstone professional development program has earned ISTE's Seal of Alignment because it helps teachers master the refreshed NETS for Teachers and seamlessly integrate technology into the classroom to engage students and prepare them for their future in a technology-powered world," said Don Knezek, CEO of the International Society of Technology in Education (ISTE).
To use technology in the classroom effectively to help students excel, teachers need high-quality professional development in technology integration. To that end, PBS TeacherLine and ISTE developed the PBS TeacherLine ISTE Capstone Certificate Program, a series of research-based courses that focus on instructional technology use, and enable teachers to demonstrate their mastery of the ISTE NETS•T. Program participants develop a professional digital portfolio of their work, earn credits toward salary and career advancement, and receive a joint certificate from ISTE and PBS TeacherLine documenting their proficiency in technology integration. The online graduate-level courses are facilitated by a master teacher and supported by a collaborative learning community and exemplary Internet-based resources.
When ISTE refreshed the NETS•T standards in 2008 to maintain their relevance in an increasingly digital world, PBS TeacherLine updated its Capstone Program to ensure educators master the new benchmarks and meet the needs of a new generation of learners who've grown up on the Internet. PBS TeacherLine previously earned the Seal of Alignment for Development and for Assessment in 2006 and 2008, respectively.
The Seals of Alignment assure learners that the Capstone courses have undergone rigorous, independent evaluation by expert reviewers, and are aligned to NETS•T. ISTE standards for teachers are used to measure teacher proficiency and to set goals for the knowledge, skills and attitudes needed to succeed in today's digital age.
A recent study conducted by Old Dominion University professors Richard Overbaugh and Ruiling Lu found that PBS TeacherLine's courses increase teachers' competence and confidence in using technology to enhance teaching and learning, as well as improving their operational knowledge of state and national technology and content area standards. The study was published in the Fall 2008 issue of the Journal of Research on Technology in Education.
PBS TeacherLine ISTE Capstone Certificate Program comprises three courses: Capstone Introduction: Planning a Technology Portfolio, Capstone I: Teaching with Technology, and Capstone II: Empowering Students With Technology. The updated Capstone program will be open for enrollment in fall 2009. The Introduction course is six weeks long and Capstone I and II are each 12-weeks long.
For more information about the PBS TeacherLine ISTE Capstone Certificate Program, visit http://www.pbs.org/teacherline.
About PBS TeacherLine
PBS TeacherLine is committed to helping teachers acquire the skills they need to prepare students for a successful future. PBS TeacherLine provides high-quality, affordable professional development for preK-12 educators through facilitated, online courses, collaborative learning communities, and exemplary Internet-based resources. Currently, more than 130 courses across multiple subject areas are offered. Teachers can earn continuing education units, professional development points, and graduate credits for course completion. The courses have been developed in conjunction with leading education organizations, including the Mid-Continent Research for Education and Learning (McREL), Concord Consortium, and International Society for Technology in Education. Created in 2000, PBS TeacherLine is funded by a grant from the U.S. Department of Education, which represents approximately 85 percent of the total program funding. The remaining 15 percent is funded through in-kind support from PBS and program income. For more information, visit http://www.pbs.org/teacherline.
About PBS
PBS, with its 356 member stations, offers all Americans -- from every walk of life -- the opportunity to explore new ideas and new worlds through television and online content. Each month, PBS reaches more than 115 million people on-air and online, inviting them to experience the worlds of science, history, nature and public affairs; hear diverse viewpoints; and take front row seats to world-class drama and performances. PBS' broad array of programs has been consistently honored by the industry's most coveted award competitions. Teachers of children from pre-K through 12th grade turn to PBS for digital content and services that help bring classroom lessons to life. PBS' premier children's TV programming and Web site, pbskids.org, are parents' and teachers' most trusted partners in inspiring and nurturing curiosity and love of learning in children. More information about PBS is available at http://www.pbs.org, one of the leading dot-org Web sites on the Internet.
###