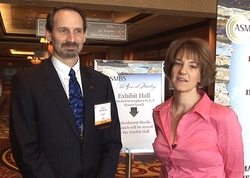 spurred record downloads of over 10,000 media files viewed for the month of June
Grapevine, TX (PRWEB) June 30, 2009
BariatricTV.com, the first online show for weight loss surgery patients, by weight loss surgery patients, spent last week in Grapevine, Texas covering the 2009 meeting of the American Society for Metabolic and Bariatric Surgery (ASMBS). Host Toni Towe interviewed various venders of products and services aimed at surgical weight loss patients.
Video coverage of the event was posted on the BariatricTV web site at http://www.BariatricTV.com and has "spurred record downloads of over 10,000 media files viewed for the month of June," according to Michael W. Towe, Producer of BariatricTV.com. Mr. Towe went on to say, "It's a great feeling to know that we have helped to educate so many patients on the happenings at this years meeting."
The interviews were conducted by host Toni Towe who had the following comments, "Interviews with industry leaders like Bariatric Advantage Vitamins, Celebrate Vitamins, BariatricEating.com and others gave us chance to let our viewers know about the products out there for them." She went on to say, "We we're also very happy to give these vendors a way to reach our audience with new product releases."
In addition to vendors BariatricTV.com also spoke with the president of the ASMBS, Dr. Scott Shikora who discussed new developments in bariatric surgery. Dr. Shikora commented by saying, "I believe we are on the cusp of the next great revolution which is even less invasive procedures." He also addressed the growing trend of insurance company denials for obesity treatment by stating, "The trend is for healthcare and insurance companies to tighten up or restrict access..." he went on to encourage patients to appeal denials by insurance companies or even seek legal council to assist them with access to treatment. He closed the interview by stating "If our patient put up the same protest that breast cancer patients and HIV patients put up, we would ultimately win."
BariatricTV.com also talked with Barbara Thompson of the Obesity Action Coalition (OAC) (http://www.obesityaction.org). The OAC is an educational and advocacy organization dedicated to giving a voice to those affected by obesity. Ms. Thompson commented on the OAC's ability to help state workers in Texas retain their rights for obesity treatment. She went on to discuss the OAC's involvement in requiring Blue Cross Clue Shield of Tennessee to drop the requirements of an IQ Test for patients seeking bariatric surgery in the state. When asked how patients can help the OCA with it's mission Ms. Thompson encouraged them to write or email there representatives in Washing to express their opinions. "This is such an important time with healthcare reform coming up this summer" stated Ms. Thompson "We want to make sure there is treatment for obesity included in that."
For additional information on BariatricTV.com, or to see all the video overage of the ASMBS meeting, please visit http://www.BariatricTV.com.
About BariatricTV.com:
BariatricTV.com, a subsidiary of M2 Digital Post Inc. is the first online video program for weight loss surgery patients by weight loss surgery patients. Hosted by Toni Towe and Lynnda Shepherd it's goal is to inform and entertain the Bariatric community through the use of online video.
Contact:
Michael W. Towe, Producer BariatricTV.com, http://www.BariatricTV.com
###