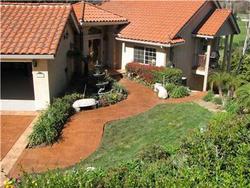 Calimesa, CA (Vocus) July 8, 2009
Often an overlooked feature, a properly designed concrete entryway can transform a home or business to create a welcoming environment for guests. ConcreteNetwork.com has recently published ten helpful tips for creating grand entryways by including walkways, steps and decorative concrete accents.
By incorporating even one of these ten insightful tips, any concrete entryway will not only serve its intended function, but will dramatically add curb appeal to any home. Outlined in more detail on the website, the tips cover:
1. Adding a walkway.
2. Adding steps.
3. Choosing a complementary design.
4. Incorporating a decorative pattern.
5. Exposing the concrete's aggregate.
6. Incorporating fancy edges.
7. Installing a seat wall.
8. Adding decorative concrete columns and arches.
9. Including built-in lighting.
10. And lastly, adding a concrete fountain or statuary.
There's no doubt that a home or business' entryway is the first thing visitors see when they arrive. The entryway's appearance and design can welcome visitors like open arms, or it can send them in the opposite direction. For this reason concrete is the material of choice. Through the use of color, texture, shape and pattern, concrete can be made warm and inviting.
For more in-depth details on entryways, including design videos and designing with concrete visit ConcreteNetwork.com.
Established in 1999, The Concrete Network's purpose is to educate consumers, builders, and contractors on popular decorative techniques and applications. These include stamped concrete, stained concrete floors, concrete countertops, polished concrete, and much more. Over 10 million people visit ConcreteNetwork.com per year to research, get ideas and to find a contractor.
The site excels at connecting buyers with local contractors in their area through its Find a Concrete Contractor service. The service provides visitors with a list of decorative concrete contractors throughout the U.S. and Canada, and is fully searchable by more than 20 types of decorative concrete work in over 200 regional areas throughout North America.
Article photo courtesy of Cazares Concrete in Ontario, CA. Attached photos courtesy of Rhodes Landscape Design Inc in Sacramento, CA.
###