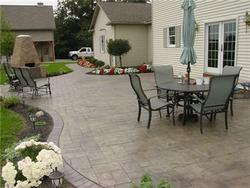 Calimesa, CA (Vocus) July 17, 2009
ConcreteNetwork.com, the industry's leading website for concrete product information, recently updated its online guide to buying concrete stamps. Now available in an easily printable format, contractors can research and learn about the process of purchasing stamp products.
As the popularity of stamped concrete continues to grow, so does the interest of manufacturers. New, innovative products are being created at a rapid pace. With the available stamping tools and patterns that are available, there is an increased need to have a good knowledge base on the products. The guide outlines the different types of stamps available, how to match a stamp type with a particular application, how to determine how many stamps a project will need, color coding and much more.
Before buying concrete stamps the guide points out several key factors that need to be considered. First, contractors will need to evaluate the project at hand to determine the type of stamp and the number of stamps needed. Second, it's important to determine whether the stamps will be used for freshly placed concrete or to do an overlay.
To help with the decision making process, the guide covers three basic types of stamping tools for concrete flatwork, which include: rigid or semi-rigid mats, flex mats and texturing skins. Each offers its own unique qualities and benefits for specific concrete projects.
To help with making a smart buying decision from the beginning, follow the expert tips provided by industry pros including Bob Harris, president of the Decorative Concrete Institute and more. For more information on concrete stamp products and concrete visit The Concrete Network.
Established in 1999, The Concrete Network's purpose is to educate consumers, builders, and contractors on popular decorative concrete techniques, applications, and products. This includes concrete stains, equipment, sealers, tools, and materials. Now in its 10th year, The Concrete Network Website had over 10.2 million visitors in 2008 researching decorative concrete.
The site excels at connecting contractors with concrete products suppliers through its Concrete Product Directory Concrete Products service. The service provides visitors with a list of decorative concrete manufacturers throughout the U.S. and Canada, as well as local decorative concrete supply stores.
Article photo courtesy of Cornerstone Concrete Designs in Orrville, OH. Attached photos courtesy of Deco-Systems of MD Inc in Rockville, MD.
###