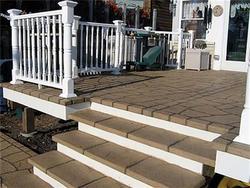 Calimesa, CA (Vocus) July 29, 2009
Contractors can now save time and energy searching through endless websites and catalogs for concrete resurfacing products online with The Concrete Network's online product directory. Now with more easy-to-use search features, contractors can choose to locate a nationwide manufacturer or locate a local supply store all in one convenient location online.
Concrete resurfacing has become a popular and preferred method of rehabilitating old, worn concrete surfaces by concrete contractors. The application processes and options included in resurfacing concrete continue to grow in a market where consumers are looking for cost-effective ways to rejuvenate their concrete floors and hardscapes.
For this reason ConcreteNetwork.com has made resurfacing and overlays products one of ten searchable product types available for concrete contractors in its online product directory. Under this heading, contractors will be able to choose from the following four sub-products to meet their project needs. They include: epoxy and garage floor coatings, exterior resurfacing, interior overlays and toppings, and underlayments.
Once the desired product is chosen, contractors are lead to an extensive list of manufacturers where they can further research and purchase the products they're interested in on the manufacturer's website.
For those needing more in-depth information on concrete resurfacing products before making a purchasing decision, the site offers a buyer's guide to concrete overlays that covers the different types of products available and their uses.
Established in 1999, The Concrete Network's purpose is to educate consumers, builders, and contractors on popular decorative concrete techniques, applications, and products. This includes concrete stains, equipment, sealers, tools, and materials. Now in its 10th year, The Concrete Network Website had over 10.2 million visitors in 2008 researching decorative concrete.
The site excels at connecting contractors with concrete products suppliers through its Concrete Product Directory Concrete Products service. The service provides visitors with a list of decorative concrete manufacturers throughout the U.S. and Canada, as well as local decorative concrete supply stores.
Photos courtesy of Unique Concrete in West Milford, NJ.
###