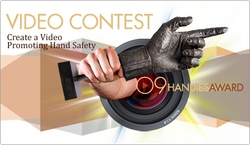 Acton, ON (PRWEB) July 2, 2009 - Hands - and the gloves that protect them -
are the subject of a video contest with a first prize of $5000. Superior Glove Works announces the 'Handies', a video contest about Hand Safety in the Workplace.
Hands are our most valuable asset. They contain more bones and moving parts than most other areas of the body and separate humans from the rest of the species. In the work environment, protecting them is the number-one challenge faced by companies where employees must wear gloves.
Despite efforts to increase awareness about the importance of taking care of them, approximately one-quarter of lost-time work injuries involve the hand because workers aren't wearing their gloves when they get injured.
It's time to change how messages about safety are delivered since cuts, burns and fractures continue to sideline workers. Even though safety organizations strive to educate the public about hazards, often trying to scare workers into doing the right thing, they still have a hard time reducing injury numbers.
It's human nature to want that spoon-full-of-sugar instead of vinegar when it comes to changing habits, which is part of the inspiration behind the video contest. Superior Glove president Tony Geng is hoping someone out there with a yen to be a filmmaker plus a deep appreciation of our hands can help get a new, revitalized - and more memorable - message across, perhaps by reinforcing how amazing hands are, so that taking care of them becomes second nature.
Enter the Handies Video Contest or click on the contest link on the Superior Glove website. Video submissions must be under three minutes long, and the contest is open to Canadian and U.S residents with no entry fee, a limit of three entries per person and a deadline of Oct. 5th 2009. The top five videos selected (four runners-up each receive $100.00 cash) will be presented for viewing in Orlando, Florida, on Oct. 25th, 2009, at the National Safety Congress 2009 .
###