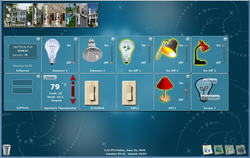 It has been patently and painfully clear to us that the adoption of our home automation products was limited by the complicated nature of the software available thus far. Our new EZSrve user interface goes a long way to change that. We are extremely excited to launch this product as It truly simplifies things for the user, especially those who shy away from technology
Laguna Niguel, CA (Vocus) July 2, 2009
Simplehomenet proudly presents a completely new user interface for its EZSrve web-based INSTEON and X10 device controller based on the Adobe Flash Player and an enhanced advanced programmer's interface (API.) The application runs on modern browsers, giving the EZSrve compatibility with any computer platform including MS Windows, MAC-OS and Linux. The use of rich Internet applications (RIA) technology offers simplified and more intuitive management of devices, automation events scenes and timers. Extensive use of graphics and the drag and drop feature of RIAs makes the complexity of earlier automation systems a thing of the past.
Founder Al Choperena says, "It has been patently and painfully clear to us that the adoption of our home automation products was limited by the complicated nature of the software available thus far. Our new EZSrve user interface goes a long way to change that. We are extremely excited to launch this product as It truly simplifies things for the user, especially those who shy away from technology".
Current EZSrve owners need only upgrade the firmware in their units from our support website or they can have the upgrade done by Simplehomenet for a nominal charge. The application will initially be hosted in our servers and can be used by anyone free of charge. A desktop application based on Adobe AIR will be available in the future for a nominal charge. A hosted application allows Simplehoment to make enhancements rapidly and seamlessly, without users needing to upgrade the firmware in their EZSrve units. All shipments of EZSrve as of today will contain the new firmware.
Live Demo
While still in its beta stage, the application can be used on a local EZSrve or sampled while connected to an actual EZSrve at the Simplehomenet office. Simply point a browser to http://www.compacta.org/?url=ezsrve.com. At the login page enter "EZServe" for the name and "Simplehomenet" for the password.
A goal of SimpleHomeNet remains to make home automation friendly and to deliver on the promise of practical money and energy savings solutions that everyone can enjoy. Now in its third year of operations, Simplehomenet has sold thousands of devices spanning a broad range of automation. Since introduction, EZSrve has led in integration, value, flexibility and usability. The new interface raises the standard for ease of use to a new level.
Simplehomenet devices focus on expanding the value of an automated home or business beyond lighting. Popular applications for their products include monitoring contact closures, switching loads up to 30A 220V, controlling irrigation systems and and pumpsl, sensing, and integrating various protocols.
Simplehomenet is a division of Compacta International, Ltd.; a Delaware corporation established in 1996. Compacta is resourced to quickly bring products to market and to provide excellent customer support.
###