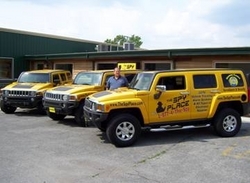 After opening my store, I realized that The Spy Place name really does allow for multiple revenue streams from one source
Ft Wayne, IN (PRWEB) July 1, 2009
The segment will include interviews with The Spy Place founder and Ms. Church. It will educate viewers on this new franchise concept and discuss the unique nature of The Spy Place business. Viewers will become aware of the requirements to become a The Spy Place franchisee and discuss the systems that are in place to support franchisees and help them achieve success in their business.
The Spy Place is the first of its kind franchise system. In addition to combining the uniqueness of our innovated James Bond-like retail store, which has on display the latest in high tech spy "gadgets,". The Spy Place also serves the Do-it-Yourself market, custom building surveillance systems to the individual customers needs. The Spy Place engineers and installs covert camera systems , lighting and access control, global positioning systems and more, serving business, home, industry and government, The Spy Place offers its franchisees diversity. Each franchisee has the opportunity to expand into various areas of the security and surveillance industry through a program that encourages diversity and supports the franchisee's own desires.
Each franchise will have a retail store featuring the "gadgets" and provide installation services, but in addition, each franchisee may, if they choose, expand into such areas as document destruction, personal security and private investigation services. "After opening my store, I realized that The Spy Place name really does allow for multiple revenue streams from one source," said Ray Huck, founder of The Spy Place. "Nothing in the security and surveillance industry is off limits with The Spy Place brand. So our franchisees are allowed to follow their dreams of business ownership, while being able to increase their revenue streams by expanding their business through diversity. And they only need one telephone number, one marketing campaign, one accountant. Our goal is to reduce franchisees costs and overhead while allowing for expansion. I'm really excited about the future of The Spy Place."
The segment is expected to air in October on CNBC with additional airings on CNN Headline News and regional markets across the country.
For more information about The Spy Place visit the website at http://www.thespyplace.com or call 877-4-THE SPY (877-484-3779).
###