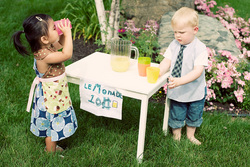 Any mom knows that a two-year-old just hasn't quite mastered the fork and the spoon yet
Osseo, MN (PRWEB) July 12, 2009
HattieRose.com is already known for its innovative and adorable designer baby bibs. Now they are expanding their product line by introducing a brand new idea for dinner wear: the Toddler Dinnertime Apron, a toddler-sized designer apron that functions as a bib.
Designer and mom Jill Sandager decided that she needed to address the changing needs of her own growing daughter. As her child moved into the toddler stage, she outgrew her baby bibs. "Any mom knows that a two-year-old just hasn't quite mastered the fork and the spoon yet," says Jill with a laugh. "Much of dinner still seems to ends up on her shirt and in her lap." As she searched for something to protect her daughter's clothes during dinnertime, Jill found that most available products were impractical and lacked creativity. So the toddler dinnertime apron was conceived.
The new toddler apron bibs protect clothing from the giant messes that toddlers can make; they are made to cover the toddler's clothes so that when he spills spaghetti on his lap, he won't need to change his pants. These are not like bulky rubberized bibs with a little tray at the bottom. These adorable aprons fold up, easily fitting into diaper bags.
"My daughter reminds me all the time that she's not a baby anymore so she doesn't need a baby bib, but she always feels like a big girl when she wears her 'big girl' apron," said customer Julie A. "And these aprons are not only useful during lunch and dinner; they can also be used for gardening, arts and crafts, or helping me make cookies in the kitchen."
Hattie Rose Designs is steadily on its way to becoming a household name synonymous with quality and fashionable baby bibs and gifts. The small company based in Minnesota has acquired a sort of growing cult following. "People really appreciate the quality that they receive with each hand-made item," said Amy Addington, mom and co-owner. "But they really love the uniqueness of the adorable designs that we offer. That is what seems to really get people excited about giving our gift sets to their friends and families."
And the new Toddler Dinnertime Aprons do not disappoint. They just are as adorable and unique as their popular line of baby bibs. The new toddler line at HattieRose.com is filling yet another need for moms with a product that delivers practical functionality and designer fashion.
About Hattie Rose Designs, Inc.
Hattie Rose Designs is the creator of innovative fashionable bibs and gifts for baby. Everything found in our store is a Hattie Rose Designs Original®, created by our own talented designers. It is our passion to provide distinctive gifts that will be both practically useful and make your baby the center of the conversation. Every item is meticulously handmade of the highest quality materials in the United States.
###