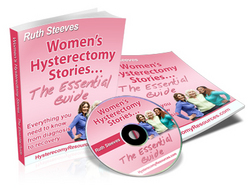 ...I absolutely recommend this book to anyone having a hysterectomy.
Houston, Texas (PRWEB) July 1, 2009
Over 600,000 women in the US alone will have a vaginal hysterectomy this year. A hysterectomy is a major surgery with a long recovery time, and the experience can be quite stressful, and many women don't get the support that they need when going through it. And for those women, a great new hysterectomy resource is available.
Now, those women can turn to Women's Hysterectomy Stories - an Essential Guide. It is a guide that takes its reader through the entire process of having a hysterectomy on a personal level. The author, Ruth Steeves, recounts her own experiences, from the medical reasons that led her to needing the hysterectomy in the first place, to her pre-surgery preparations, both for herself and her family, and her experience at the hospital and then after her vaginal hysterectomy, back at home, recovering.
Women's Hysterectomy Stories - an Essential Guide also gives the reader valuable information and detailed checklists to empower them through their own vaginal hysterectomy experience. The types of hysterectomy surgeries that are available, the indications for each, as well as the respective recovery times are just a small sample of the information that Steeves has gathered to help her readers through their own hysterectomies. She also gives valuable information about hormone replacement therapy (HRT) and menopause, and how having a vaginal hysterectomy affects both.
So what are women saying about this new guide?
"...I absolutely recommend this book to anyone having a hysterectomy." ~ Luba Brown
"For any women facing a hysterectomy I recommend this book wholeheartidly and is a great help in understanding all the aspects of the surgery!" ~ Audrey Overman
To learn more about Steeves's story and about Women's Hysterectomy Stories - an Essential Guide, go to http://www.hysterectomyresources.com
###