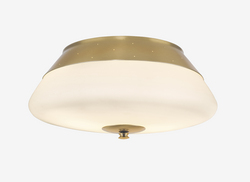 Portland, Ore. (PRWEB) July 1, 2009
Period authentic lighting manufacturer, Rejuvenation, has launched the newest addition to its collection of Mid-Century Modern lighting. The Nimbus marries space-age style, with modern energy efficient options at an affordable price point.
Design Inspiration from the 1950s
Offered in the late 50s and early 60s, the Nimbus is inspired by the 1959 EJS "International" series. Just like the original, the fixture is constructed of an aluminum spinning, with a cased white satin glass shade.
"Nimbus is stylish and evocative of the era, without being noisy. A workhorse of the mid-century world, it provides ample illumination without demanding too much attention or imposing a style on the room. The simple lines make it suitable in a variety of locations and compatible with a range of décor. One thing I especially like about it-- the shade is totally enclosed, unlike so many mid-century ceiling fixtures that are coupled with open shades." says Tim Wetzel, Rejuvenation's lead industrial designer.
About the Nimbus
Nimbus fills a need many mid-century homeowners share; it's a stylish close-to-the-ceiling option that fits perfectly with the 8' ceilings typical of this era. Available in two finishes: Brushed Aluminum and Bronze Tone. Its shade is integrated into the overall design, creating a stylistically simple fixture. "Starlight" pinholes and a saucer shaped shade add a subtle space-like feel to the design.
Priced affordably at $159 for the fixture and the shade, the Nimbus is right at home in kitchens, family rooms, bedrooms, hallways or any space with a low ceiling. It can even be upgraded to a hard-wired compact fluorescent GU24 option at no additional charge. The Nimbus has plenty of mid-century personality to satisfy retro enthusiasts, while finding a broader appeal with old ranch lovers and other postwar homeowners. Visit http://www.rejuvenation.com/nimbus for more information.
About Rejuvenation
Rejuvenation was founded in 1977 with a passion for old houses and buildings. Today, it is America's largest manufacturer and leading direct marketer of classic American lighting and house parts. Inspired by history, period-authenticity and customer creativity, Rejuvenation's diverse line spans the 1870s to 1960s. Collections include: Early Eclectic, Period Basics, Historic Revivals, Arts & Crafts, Colonial Revival, and Modern America. Homeowners can stay true to their home's era, and also have the flexibility to mix-and-match styles to create more personalized and eclectic environments.
The company donates ten percent of its after-tax profits to non-profit organizations dedicated to environmental conservation, historic preservation, the arts, and equal-access housing. Products are sold through the company's catalog, retail stores in Portland, Ore. and Seattle, Wash, and websites http://www.rejuvenation.com.
###