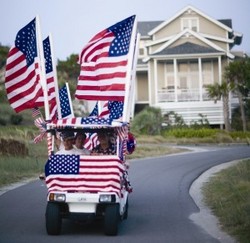 Bald Head Island, NC (Vocus) July 1, 2009
Families looking for a unique July 4th destination need look no further than Bald Head Island, NC. The island's annual Independence Day celebration includes picnics, a carnival and a fireworks cruise, but the main event is the much anticipated Annual Golf Cart Parade, which draws more than 100 entries each year.
The popular parade honors the July 4 tradition while celebrating the island's dedication to remaining a car-free destination. Whimsically decorated golf carts - the preferred mode of on-island transport - compete for a coveted slot among the best in. Carts are transformed into elaborate floats, complete with papier-mâché, flashing lights, and wide array of accoutrements.
This year, book your vacation for arrival on Saturday, July 4 and enjoy early check-in to your rental accommodations, free tickets for the total number in your party for an afternoon cookout at the Harbourside Pavilion, and free tickets for your entire party on that evening's ferry fireworks cruise, where you'll watch the spectacular fireworks display put on by the town of Southport, the official home of the North Carolina Fourth of July Celebration. Visit http://www.baldheadisland.com/visit/rental_search.aspx to view homes available for rent, then 1-800-973-8932 when you're ready to book. Offer does not apply to existing reservations and a three-night minimum stay is required. Some restrictions may apply.
Bald Head Island is Bald Head Island is a second home and vacation community located just off the coast of Southport, NC. With no bridge connecting the island to the mainland, visitors take a 20-minute ferry ride across the Cape Fear. Because there are no cars allowed, the favored method of on-island transport is electric cart, bicycle, or walking. Bald Head Island has been thoughtfully developed and retains much of its wild beauty. Of the island's 12,000 acres, 10,000 have been permanently preserved and will never be developed. To learn more about Bald Head Island, visit http://www.baldheadisland.com.
Contact
Lauren Frye
910-256-9742
###