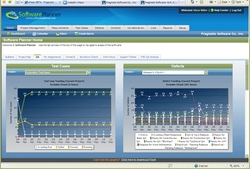 Partnering with Pragmatic Software is consistent with Nanosoft's strategy of product expansion plans and Software Planner perfectly complements the range of products and services we offer to our clients
Greenwood Village, Colorado (PRWEB) July 1, 2009

Pragmatic Software, a leading provider of application lifecycle management (ALM) solutions, has partnered with Nanosoft Solutions as a reseller of Software Planner in India, United Arab Emirates, Malaysia, and Singapore.
Software Planner is an award winning application lifecycle management (ALM) tool that helps Information Technology (IT) departments manage all components of software development including managing customer requirements, project deliverables, test cases, defects, and support tickets. Software Planner also provides collaborative tools like document sharing, team calendars, interactive dashboards, knowledge bases and threaded discussions and integrates with most of the major automated testing tools. Software Planner is currently being used by over 70,000 users in 24 countries, with companies like Acer Computers and Procter and Gamble managing their software projects with the tool.
"Partnering with Pragmatic Software is consistent with Nanosoft's strategy of product expansion plans and Software Planner perfectly complements the range of products and services we offer to our clients" says Vasu Rao, Head- Business Development. "We are pleased that this partnership program is a perfect fit and Nanosoft could now offer its customers award winning products from Pragmatic" adds Mohammed Faros, Technical Director, Nanosoft.
"Because of time zone differences, in the past we have not been able to service the India and Asian market effectively. We are elated to partner with Nanosoft Solutions to sell Software Planner in India and Asia because it allows clients in that area access to our award winning product backed by excellent support in their own time zone, says Steve Miller, President/CEO of Pragmatic Software. "With Nanosoft's track record for providing comprehensive technical project leadership, programming and testing services, Nanosoft will provide a valuable product and service offering to clients in this region - a one-stop shop for both tools, development and testing services.", adds Miller.
About Software Planner
According to Pragmatic Software, Software Planner is available in 2 versions:
1. Software-as-a-Service (SaaS) Version - Hosted by Pragmatic Software, the SaaS edition manages all phases of the application lifecycle including requirements, test cases, defects, support ticket management, project and task management, automated test integration, document sharing, discussion forums and calendar management. This edition starts at $30 per month (per concurrent user) and modules can be purchased ala-cart.
2. Enterprise Version - Hosted by the client, the Enterprise edition contains all features of the SaaS edition. It also has full integration with Crystal Reports®, a fully documented API, synchronization with other software in your organization and document versioning. This version starts at $ 1,000 per concurrent user (one-time fee) and modules can be purchased ala-cart.
About Nanosoft
Nanosoft is an integrated software development company, having its foot print in India, UAE and Singapore. They provide fully customized, cost effective and viable solutions in areas of financial services, Administrative packages, Mobile Applications, e-commerce business logic implementations for diverse industries.
About Pragmatic Software
Founded in 1992, Pragmatic Software Company, Inc. based in Denver, Colorado is a software development company that provides web-based project management and team collaboration software to over 70,000 subscribers in over 24 countries. For more information on Pragmatic Software, go to http://www.pragmaticsw.com or contact Lynn Miller at 303-768-7480. To see an on-line copy of this press release, http://www.PragmaticSW.com/PressReleases/PressRelease-0079.htm.
###