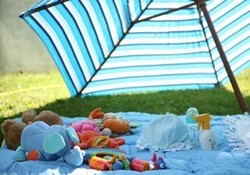 London (PRWEB) July 6, 2009
It's holiday season - the time of year that everyone looks forward to. But however excited you are about your impending trip, there is probably one aspect that you are less enthusiastic about - getting there. That's why gurgle has written a range of features with helpful tips on travelling with a baby, toddler or during pregnancy.
How to beat boredom on long-haul flights:
With young children, it's fair to say that boredom is the enemy! Toddlers have very short attention spans, so it's important to bring lots of activities to keep them entertained when you're embarking on a long-haul flight. Boredom buster essentials include colouring and sticker books, pens and paper, a favourite book (or ten), healthy snacks and perhaps even a portable DVD player. There are also other ways in which you can help to prevent tantrums or hearing the inevitable 'Are we nearly there yet?' wail every 5 minutes:

Fly direct when possible; this will help to reduce your total travel time and means that you won't risk missing a connecting flight.
Potty-training your toddler? Try to get a seat near to the toilet! Yes, we know this isn't a boredom buster but it is essential if you want to have a peaceful flight.
If you can fly overnight, do it; during the day try to tire your toddler out with a runaround in the local park, then put her in her pyjamas on the way to the airport. With any luck she will sleep for much of the flight!
Even if your toddler is under the age of two it's probably worth getting her a seat of her own as she is likely to become frustrated and wriggle if she has to sit on your lap for the whole flight.
Be prepared! Bring something for every eventuality - at least two changes of clothes, a snack, bottles, formula and nappies. You don't want to be caught short and you will feel far more relaxed knowing you have everything you need.
Be realistic with your expectations: a long-haul flight with a young baby or toddler is unlikely to be an incredibly relaxing experience. Try to keep your sense of humour and remember that the flight won't go on forever. If you sense your child is getting upset, why not talk to her about the holiday you are going on - what you will be doing, what you will see, who you are visiting etc. This will give her something to look forward to.
Remember that there are other passengers who may be trying to sleep or have some quiet time. If your toddler is old enough to understand a few rules it might be worth going through do's and don't's before you get on the flight eg 'Do be polite to the air hostess', 'Do tell Mummy when you need the toilet and 'Don't shout' or 'Don't kick the chair in front.'
Top ten tips on travelling with your baby
But what if you're travelling with a young baby? She won't be interested in colouring books, in-flight movies or chats about how exciting your holiday is going to be. Here gurgle gives some tips on how to travel with a baby:

The most important thing is to be prepared! For your journey, whether it's by plane, car or boat buy a baby-bag (preferably one which has waterproof lining) and pack plenty of bottles, formula, nappies, nappy sacks (for dirty nappies), baby wipes, a foldaway changing mat, some bibs, water/juice, food jars with spoons and several changes of clothes.
In case your baby is sick on you or her nappy leaks, it's worth also packing a change of clothes for yourself.
For the holiday itself, remember to pack a first aid kit and if you're travelling to a hot destination - suncream and a sunhat.
If you're breastfeeding you may also need a breast pump.
As well as bringing food jars, pack some healthy snacks in case your baby gets hungry in between meals.
If your baby is teething it's worth bringing a teething ring to give her some respite.
Take along a favourite book to read to your baby and a favourite teddy for her to play with and cuddle when she goes to sleep
If you are flying, breast or bottle feed your baby on take-off and landing; this will help to prevent her ears from popping or hurting.
Similarly, so that your baby feels that she has something familiar with her, bring a pair of pyjamas to put her in on the journey and a grobag too in case she gets cold
If you're going by plane, try to book an overnight flight so that (with any luck) your baby will sleep on the flight. Also, if your baby is young, she may still be able to fit into a bassinet or fold-out cot provided by the airline. When you make your booking check if they have one available.
Travelling by car? Listening to a story tape, nursery rhymes or music will help to prevent your little one from getting bored. If you want her to nap, why not pack a tape of lullabies?
If you're going by car, factor in several stops during your journey, so that your baby can have some fresh air and a crawl/walk around (depending on her age).
Most importantly of all - if you are travelling by car, make sure that your baby is in the correct car seat for her age and weight and that her seatbelt is tightly fastened while you are on your journey.
Top tips for pregnant travellers:
Have bump, will travel! Just because you're pregnant, it doesn't mean you can't go on holiday. This isn't to say that you should take part in any extreme sports or go on a long-haul flight, but you can still travel. Most airlines will let you fly until you are 34 weeks pregnant, but you should check this with the airline before you book your holiday. You may also need a note or certificate from your midwife if you are over 28 weeks pregnant; again, check this before booking your flight. If you are travelling by boat there may also be certain restrictions, so investigate these prior to booking your journey.
Here are gurgle's top tips for travelling mum-to-be's:

Manage long journeys - try not to travel long-haul, but if you have to, break the journey into manageable chunks. If you are travelling by car or train, take short stops where you can get some fresh air and stretch your legs. If you're travelling by plane, make sure you have a walkaround the plane at regular intervals. This will help to improve your circulation.
Aim to travel in your second trimester, when you won't be overwhelmed by fatigue or bouts of morning sickness.
Carry your maternity notes with you so that people are aware of any medical conditions you may have.
Make sure you have up-to-date travel insurance.
Get the go-ahead from your doctor before flying.
Have a healthy supply of snacks with you at all times to maintain your blood sugar levels; dried apricots, carrots and bananas are great choices.
It's easy to become dehydrated when you're travelling - especially by plane - so regularly sip on water and carry a facial spray to give yourself a spritz now and then!
If you are flying, buy a good support cushion or pillow for the flight. This will help to support your back and generally make your journey more comfortable.
Buy a relaxing cd to calm you on long car journeys, or listen to some favourite music on your iPod if you are travelling by plane (remember that you won't be allowed to listen to it on take-off or landing).
Do your research before travelling! Some countries will have vaccine requirements and in pregnancy there are certain vaccinations that you cannot have, so make sure that you check this out before you go. Talk to your GP about this if you have any concerns.
It's not only you that is at risk of dehydration during a flight, but also your skin. Carry a moisturiser with you and regularly apply it to your skin throughout the flight so that when you arrive you feel fresh, energised and ready to start your holiday!
As well as these features, gurgle also has many other articles on fertility, pregnancy and parenting-related topics. So for all your parenting needs, head to gurgle.co.uk (http://www.gurgle.co.uk)
###