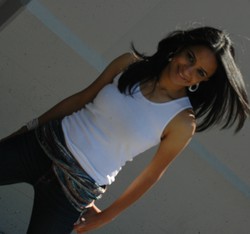 We believe it's a ground-breaking, first-of-its-kind fitness class
Santa Clara, CA (Vocus) July 1, 2009
Mona Sampath pioneered Bollywood aerobics and dance in the San Francisco Bay Area and her name has become synonymous with Bollywood. She co-founded Naach and under her artistic direction it became the most sought after professional Bollywood dance company in Northern California.
Her new venture – Mona Sampath, Inc. offers dance and fitness classes in 15 locations in the Bay Area. With a team of over 20 trained and seasoned instructors, superb choreography & fitness programs set to terrific music - this new company can guarantee the very best of Bollywood. In addition to classes, the company also has a professional dance troupe of 50 dancers. The dance troupe plans to perform in shows all over the country.
After winning the all-India intercollegiate dance competition five years in a row, Mona Sampath gained extensive experience in the Bollywood industry by performing with film stars like Akshay Kumar and Karishma Kapoor. She also had the opportunity to choreograph for Himesh Reshammiya, Shaan, Kunal Ganjawala and the world renowned, Oscar-winning musician - A.R. Rahman. The instructor team at the company has extensive dance and performance experience – ranging from Bollywood to western and Indian classical and lyrical styles, jazz, and modern.
The Bollywood Dance Program
In the past, Bollywood dance was known for its 'hip-shaking', 'light-bulb twisting' moves! In the last few years, and especially after the recent success of Slumdog Millionaire and its whopping eight Academy Awards, Bollywood has truly gone mainstream. With performances in America's Got Talent and So You Think You Can Dance, Bollywood has undeniably taken center-stage. "I believe Bollywood is not just one specific style of dance, but a collage of many dance styles set to chart-topping Bollywood songs," said Mona Sampath. The new company offers classes with true elements of Modern, Jazz, Hip-hop, Salsa and Lyrical dance. Mona added, "We will be showcasing Bollywood dance in several major events in the Bay Area during the course of this year." Stay tuned for the free dance workshops at various locations.
The Bollywood Fitness Program
The company also launched a brand new Bollywood fitness program. What makes this fitness class 'Bollywood' is the music. Custom mixes and superior edits motivate and inspire students to work hard and push themselves. "We believe it's a ground-breaking, first-of-its-kind fitness class," said Janani Chalaka, a Senior Dance and Fitness Instructor. "The program offers a non-stop total body workout that seamlessly takes you through cardio and toning routines. It is based on the principal of interval training - the workout has steep peaks and valleys. Our new program is not only incredibly fun and energetic but also extremely effective." Studies have shown that such a workout routine could dramatically improve cardiovascular fitness and raise the body's potential to burn fat. The highlight of this program is that the benefits become evident in a matter of weeks.
About Mona Sampath, Inc.
Head-quartered in Sunnyvale, CA, Mona Sampath, Inc. offers Bollywood workshops, dance & group exercise classes as well as professional dance performances throughout Northern California. For more information, please contact info(at)monasampath(dot)com or visit http://www.monasampath.com
###