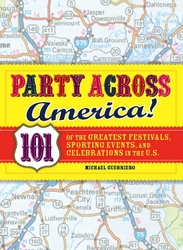 Nobody had ever tackled a project like this. And it took losing my job before I finally had the guts to do it. The idea was sitting inside my head for years
Denver (PRWEB) July 1, 2009
The greatest annual celebrations in America have never been organized into a thrill seeker's travel guide, or a party hopper's bible.......until now.
After getting the axe from the pharmaceutical industry, Guerriero jumped into his Subaru Outback, drove 12,000 miles, and crossed the country 8 times (using his severance pay to fund the research) in search of the 101 greatest annual celebrations in America. The result--Party Across America (http://www.partyacrossamericabook.com)! "Nobody had ever tackled a project like this. And it took losing my job before I finally had the guts to do it. The idea was sitting inside my head for years," he says.
If there was ever a time that we needed to blow off some steam, this is it. Party Across America! is the first book of its kind - 300 pages that reveal the ins, outs, and secrets to attending the nation's best shindigs on a budget. The book has received glowing reviews from USA Today, The L.A. Times, Philadelphia Inquirer, Baltimore Sun, and Chicago Sun Times.
Types of celebrations range from the expected (Kentucky Derby, New Orleans Jazz Fest, Halloween in NYC) to the unexpected (Tour De Fat, Mermaid Parade, Oakie Noodling Tournament), and details from lodging to tickets to transportation to what-to-pack are included. 47 states are represented, and no rock is left unturned in Michael's quest to weave the social fabric of the United States.
With international travel at an all-time low, most Americans will rely on long-weekend trips to recharge their batteries (according to Travel Industry Statistics, 55%). Each event occurs over the course of a long-weekend, and is suitable for fun-loving retirees as well as 20 and 30 something's. This is truly the time to Party Across America - from sea to shining sea.
Contact the author for a press kit / copy of Party Across America: mike at partyacrossamericabook dot com. Visit http://www.partyacrossamericabook.com
###