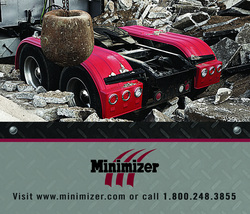 I'm proud to work for such a strong brand like Minimizer. My experience will be an asset to our clients, I want to be a resource to them and build our dealer network
Blooming Prairie, Minn. (PRWEB) July 1, 2009
Minimizer's sales force is expanding to keep pace with its growing dealer network and product offering.
Chief Visionary Craig Kruckeberg noted, "This is a great building opportunity for our company. We're pleased to add these sales positions to our sales family not just because of the need for effective expansion and service capabilities but also because they are such good people, the right people, for these positions."
The following additions have been made to Minimizer's sales team:
PATRICK HOOVER, SOUTHWEST REGIONAL TERRITORY SALES MANAGER
Patrick Hoover will spearhead the Southwest Regional Territory. This includes California, Nevada, Utah, Arizona and Hawaii.
Patrick, originally from northern Minnesota, attended Northwestern Community College in Bemidji, Minnesota where he graduated as an Automotive Specialist. He began his automotive career in 1988 with a Cadillac distributor in Minneapolis before moving on to the tool business where he was both an owner/operator and a district manager for Matco Tool franchises. In this capacity Patrick consistently earned accolades as top 15 among U.S. managers for Matco for the past 5 of 8 years.
With over 13 years of sales management and over 21 years of sales experience Patrick Hoover is ready to hit the ground running for Minimizer. "I'm proud to work for such a strong brand like Minimizer. My experience will be an asset to our clients, I want to be a resource to them and build our dealer network," Hoover said.
Patrick can be reached through the Minimizer offices at (800) 248-3855 or directly at (507) 676-3404 or via email at patrick(at)minimizer(dot)com.
JILL HAGEDORN, SOUTH CENTRAL REGIONAL TERRITORY SALES MANAGER
Jill Hagedorn will be managing the South Central Territory. This includes Colorado, Kansas, Oklahoma, New Mexico and Texas.
Jill hales from southern Minnesota and attended Rasmussen Business College in Eagan, Minnesota and has taken numerous Sales-Action Selling courses. She has been working in the manufacturing industry for nearly 10 years in various functions including order processing, production, distribution, marketing and business development.
Jill is excited to be a part of the Minimizer team. "I pride myself in representing quality, top-of-the-line products that I believe in, products that set industry standards. That's why I want to sell the Minimizer family of products," Jill says.
Jill can be reached through the Minimizer offices at (800) 248-3855 or directly at (507) 676-3327 or via email at jill(at)minimizer(dot)com.
KYLE ACKERMAN, SOUTHEAST REGIONAL TERRITORY SALES MANAGER
Kyle Ackerman will be managing the Southeast Regional Territory. This includes Arkansas, Tennessee, North Carolina, South Carolina, Georgia, Alabama, Mississippi, Louisiana and Florida.
Kyle is from southern Minnesota and currently lives in Owatonna, Minnesota. He attended South Central College in Faribault, Minnesota and MMI Technical Institute in Orlando, Florida. He has over three years of experience in the trucking industry with both dealerships and independent trucking companies.
Kyle will be a superb addition to the Minimizer team. "I really enjoy the industry. I'm looking forward to working with our dealer network and expanding the market penetration of Minimizer," Kyle says.
Kyle can be reached through the Minimizer offices at (800) 248-3855 or directly at (507) 676-3412 or via email at kyle(at)minimizer(dot)com.
For more information, to become a distributor, or to contact a dealer, phone Steve Hansen, Minimizer National Accounts Manager, at (800) 248-3855 or via email at steve(at)minimizer(dot)com.
About Minimizer
Headquartered in Blooming Prairie, Minn., Minimizer manufactures poly truck fenders, poly toolboxes, custom mud flaps, and plastic truck tool boxes. Family owned and operated for nearly three generations, Minimizer parent company Spray Control Systems, Inc., was founded in 1983. Minimizer aims to provide products tough enough to please tough people in a tough industry. For more information call (800) 248-3855 or visit http://www.minimizer.com.
###