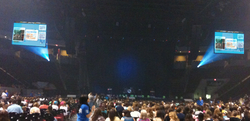 Cambridge, MA (Vocus) July 1, 2009
LocaModa, Inc. today announced a host of new features in the latest release of Wiffiti™, a web-based social media application that publishes real-time text messages, mobile photos, Twitter and Flickr feeds, and other location-relevant content to thousands of screens in bars, cafes, colleges, and public spaces such as Times Square, New York.
Wiffiti 4.0 has been designed to make it even easier for brands and venues to create and measure consumer attention through real-time interactive media and social messaging. After several years of spearheading place-based media campaigns, LocaModa has developed a deep understanding of the unique user experience needed to engage consumers and has been working with partners on customized versions of Wiffiti for rollouts during Q3'09.
Wiffiti 4.0 features include:

Tag-based content feeds for photos and text (e.g. Twitter, Flickr)
Multi-modal interactivity – at the location via mobile phones, or online via website widgets
Instant text-to-screen from mobile or web
Synchronous updates across place-based screens and Websites
Customizable keywords, tagged content and response text messages
Embeddable in any digital signage network supporting Flash
Integrated mobile, web, and digital out-of-home advertising options
Data tracking
Simple web interface for creating custom Wiffiti screens
Auto-filtering
Professional moderation service options
Random Username Generator
Stephen W. King, VP Sales LocaModa commented, "In today's challenging economic climate, brands, agencies and media networks require measurable interactions with their audiences, but first they need compelling and meaningful content to drive consumer engagement. We offer a solution to the consumer, media network, and brand that delivers on this. That fundamental requirement and delivery impacts how and where media budgets are spent, which is catalyzing a sea change with the smartest place-based networks."
In delivering real-time content across web, mobile, and digital out-of-home screens, LocaModa is focused on the challenge of distributing digital media across multiple channels and measuring the impact of that media on a currently fragmented audience. LocaModa's audience engagement averages 4 minutes per mobile user session and 33 minutes per online user session.
LocaModa's platform activates passive media networks such as broadcast TV and digital out-of-home via mobile phones (including iPhones) and the web (e.g. Facebook). Wiffiti is available either as a free standard version or as a professional version offering a more customizable feature set.
To see and trial Wiffiti, visit http://www.Wiffiti.com. For Wiffiti Pro inquiries, please contact sales @ locamoda.com.
About LocaModa
LocaModa extends interactive media to audiences beyond the web. LocaModa's patented cross-channel media distribution platform is used in thousands of locations and by many of the leading operators of placed-based networks (including screen networks in cafes, bars, colleges, restaurants, retail locations, jukeboxes and public digital billboards), enabling highly localized, targeted, contextual and relevant interactive advertising and entertainment.
LocaModa, Inc. is a privately held company, incorporated in Delaware, headquartered in Massachusetts and founded by Stephen Randall, a former EVP/Founder of Symbian. True to its global vision, LocaModa is internationally backed by Dace Ventures in USA, Mahindra Group in India and Sumitomo Corporation of Japan, via its US-based strategic investing arm, PresidioSTX.
Visit http://www.locamoda.com for more information.
###