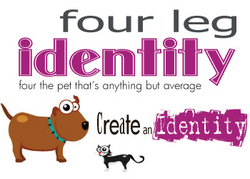 We value our customers and appreciate their support
Fishers, IN (Vocus) July 1, 2009
Four Leg Identity announced today that it is now offering free ground shipping on all orders over $100. This offer is good for deliveries in the continental USA only. In conjunction with free shipping, Four Leg Identity is also offering a Free Gift with Purchase event and 10% off all orders placed online at Fourlegidentity.com.
Here's the news, Create an Identity for your pet and Save on Everything… from Dog Beds, to Dog Collars, to Cat Furniture and MORE during Customer Appreciation Month at Four Leg Identity.com. Additionally, Sign up for the Free Newsletter and receive coupons, new product announcements and articles on important topics like dog training and canine health:

Receive 10% off Entire purchase, Enter Coupon Code at checkout : fourlegfriend the entire Month of July.
Free Ground / Domestic shipping on orders over $100.00 *
Free Gift ((Bon Ton, Sporty) on All purchases made the entire Month of July.
No Tax, except for Indiana customers (sorry, it's the law).
30 day returns, No restocking fees.
"We value our customers and appreciate their support" says, Linda Niemiec, co-founder of Four Leg Identity.com. "We wouldn't be here without them, therefore in appreciation of their ongoing support, we're excited to pass on savings, such as Free Shipping, a Free Gift with purchase and 10% off. Regardless the size of order, we want to thank our customers with discounts and gifts. In an ongoing effort to give our customers the information and products they ask for, we're also
Four Leg Identity is fast becoming a popular location to find all your Couture Pet products online and in appreciation of the support they've received, they're extending several offers the entire month of July. Four Leg Identity has recognized that Dog Beds, Cat Furniture, Dog Collars and Pet Leashes are essential in creating an Identity for you and your pet, therefore, they've created an outlet for you (the pet owner) to easily navigate and locate the 'perfect' piece to compliment and enhance any style.
About Four Leg Identity
Four Leg Identity, an Indiana based, website-only pet product retailer, launched their site in January of 2009 out of a passion to give pet owners and their pets a sense of identity. Ironically, the concept started when the mother / daughter team was trying to comprehend the 'big pet store' mentality (typical rubbish that caters to the bargain shopper) while comparing that to the 'boutique pet stores' that are hard to find and do not necessarily carry the right size or color for that matter. In shopping for their own pets, they became discouraged and bored with the selections, therefore started researching pet designers, pet fashion and quality pet manufacturers to offer unique products to their dogs. While doing their due diligence and uncovering an amazing selection of pet products they felt the need to share their findings and realized the enormous need among passionate pet owners to give other pets an identity they deserve. Therefore, Four Leg Identity has evolved offering dogs, cats and their owners, high quality, unique and fashion forward dog beds, dog collars, dog clothes, pet grooming products and so much more. For more information and a shopping experience, please visit fourlegidentity.com and http://www.fourlegidentity-blog.com
Media Inquiries :
Kari Raderstorf
Four Leg Identity
317 750 6029
###