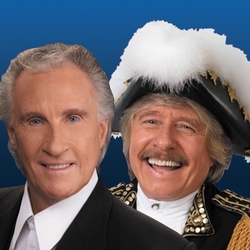 Just Once In My Life
Branson, MO (Vocus) July 6, 2009
It's a reunion! All graduates between 1965 and 1975 are invited to take a walk down memory lane with Righteous Brothers' Bill Medley and Paul Revere & The Raiders in Branson, Missouri. Enjoy their show performed at Andy Williams Moon River Theatre and receive a pass for an after show meet and greet with Bill Medley & Paul Revere & The Raiders at Moon River Grill. Enjoy great food and beverages and talk with the stars about their own memories during that era.
The dates for the reunion are:
August 15, 2009
August 29, 2009
September 12, 2009
September 26, 2009
All shows start at 7 pm with everyone gathering after the show for a special Meet & Greet with the stars. To take this walk down memory lane with Bill Medley & Paul Revere and the Raiders order tickets from Branson Tourism Center at 1-800-978-1999 or go to http://www.BransonTourismCenter.com for further details.
Tickets are expected to sell out quickly and tickets must be purchased from the exclusive ticket agency for this event, Branson Tourism Center to insure a pass into the Meet & Greet after the show. The pass is required for entry into the restaurant.
Righteous Brothers' Bill Medley is known for his chart topping and award winning songs starting with The Most Played Song in the History of American Radio "Lovin Feelin" followed by "Unchained Melody", "You're My Soul and Inspiration", "Rock and Roll Heaven", and "Just Once In My Life". The Righteous Brothers became sixties icons with the help of their weekly appearances on the TV show Shindig and their tour with The Beatles. The term "Blue-Eyed Soul" was coined by DJ's to describe their new genre of music.
Bill Medley's current show includes duet with his daughter McKenna on his Grammy Award winning song, "I've Had The Time of My Life" from the movie "Dirty Dancing". This powerful mix of "blue-eyed soul" and rock-n-roll is sure to bring back memories.
Paul Revere &the Raiders captured the essence of rock and roll in the 1960s and early 1970s with a string of hit records and their daily appearances on 520 episodes of Dick Clarks' Where The Action Is. They are best known for hits such as "Kicks", "Hungry", "Good Thing", "Just Like Me, "Steppin' Out", and the five-million seller "Indian Reservation ". The band's old time rock and roll and rhythm and blues will have you dancing in the aisles.
Branson Tourism Center, LLC is one of Branson's largest providers of Branson travel services and employs about 100 people. Among other organizations, it is a member of the Branson Lakes Area Chamber of Commerce and Convention and Visitors Bureau, American Society of Travel Agents, American Bus Association, Branson Lodging Association and an accredited member of the Better Business Bureau. Branson Tourism Center may be reached by calling 1-800-978-1999.
###