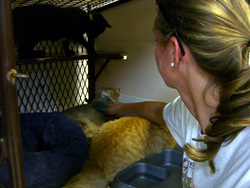 The Fourth of July is tough
Lawrence, KS (PRWEB) July 1, 2009
On the eve of Independence Day weekend, The Lawrence Humane Society finds itself in a precarious position -- it is bursting at the seams with abandoned and turned-in pets that need new homes, right before one of its busiest weekends of the year.
"The Fourth of July is tough," says Shelter Director Midge Grinstead. "We'll get hundreds of animals that weekend. The stray room is bursting to capacity now, and we'll have hundreds of pets who will be scared by fireworks and run off, or escape during large family gatherings. It's a tough weekend."
The shelter's optimum capacity is 450 animals, but currently houses nearly 450 cats and 350 dogs, in addition to many smaller animals such as rabbits and guinea pigs. The shelter is calling on pet lovers across Kansas and Missouri to adopt these needy animals.
Owner turn-ins reached a record 79 percent in May (up from a typical 40-45 percent last year), and donations to the shelter are down nearly $38,000. These factors make it extremely challenging for the shelter workers to care for the animals properly.
"It's stressful here, for the animals," says Grinstead. "We're having an economic crisis in our country. The sheer number of animals we are housing shows you how many people are losing their homes, losing their jobs. It's hurting us and certainly, our adoptions are down." Adoptions are down 10 percent, according to Grinstead.
To help increase adoptions and expose more animals to prospective owners, the shelter has held satellite adoption programs every day of every weekend this year - that's a big change from last year when they held one satellite adoption event per month.
"We've really had to work and push for those adoptions," said Grinstead.
The shelter always has a variety of dog breeds, but predominantly Labrador retrievers, Labrador retriever mixes, German Shepherd and pit bull mixes are among the most prevalent large breeds. Thanks to local puppy mill raids and one breeder who turned over more than two dozen dogs, the Lawrence Shelter also has many small dogs available, including Pekingese, Peek-A-Poos (a cross between a Pekingese and a Poodle) Shih Tzus and others.
For those interested in adopting an animal, Grinstead recommends visiting the shelter Web site (http://www.lawrencehumane.org ) to see the animals available, before heading to the shelter. Shelter hours are

11:30 a.m. to 6:00 p.m. Tuesday through Friday
11:30 a.m. to 5:00 p.m. on Saturday
1:00 p.m. to 4:00 p.m. on Sunday
Dogs and cats can be adopted for only $45, plus a spaying or neutering fee if applicable. Adopters and donors can also donate any amount time, money or wish list items six days a week. For more information about volunteering at the shelter, donations or animals available, visit http://www.lawrencehumane.org .
About the Lawrence Humane Society Animal Shelter:
The first humane group in Lawrence started in the 1890s. The Lawrence Humane Society as we know it today was chartered on March 26, 1951. The shelter site on East 19th street in Lawrence is named after Charles Ise, son of charter members Dr. and Mrs. John Ise. During the 21st century the Lawrence Humane Society continues to develop and implement many new programs to enhance animal welfare in Lawrence and in Douglas County. The number of major fund-raising projects and events increases each year to help support the shelter's ongoing commitment to do its job more efficiently and effectively.
About Nicholson Kovac, Inc.:
Nicholson Kovac, Inc., an integrated marketing communications company, is counted among the top independent advertising agencies in the country and serves national and global brands. At the heart of Nicholson Kovac's work is Relevant Ingenuity SM a proprietary process of discovering the relevant issues long before the search for creative solutions begins. The result is smarter, more efficient communications that deliver measurable results for clients.
###