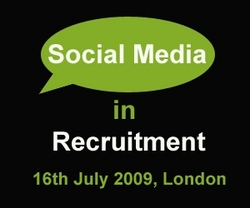 Our excellent line up of speakers will be illustrating how a wide range of Social Media tools can be used effectively in recruitment.
London, UK (PRWEB) July 6, 2009
With only two weeks to go until the UK's First Conference on the use of Social Media In Recruitment some of the UK's and Europe's most forward-thinking Recruiters are looking forward to hearing the impressive line-up of speakers.
In total there will be nine industry experts covering the following subject areas:
An overview of Social Media including Social Networking sites, Blogs and Podcasts.
How social networking sites such as Facebook can be used to get messages to your target audience.
How to use LinkedIn to promote your vacancies and source new candidates.
How to use Twitter, TwitterJobSearch.com and the Job Search Engines for recruitment.
Will social media work for my company? The positives and pitfalls.
The legal issues relating to the use of social media web sites.
Using online video to promote your company and your job vacancies.
How to put together a social media strategy for your company.
The future - taking social media to the next level.
Delegates already registered include Corporate Recruitment and HR professionals, Recruitment Agencies, Recruitment Advertising Agencies, Recruitment Software Providers and Job Sites. This broad mix of delegates should ensure that there will be no lack of questions for the speakers.
Mike Taylor from Online Recruitment Marketing Specialists Web Based Recruitment, organisers of the Conference commented: "Our excellent line up of speakers will be illustrating how a wide range of Social Media tools can be used effectively in recruitment."
"We also have speaker sessions to help delegates determine what is likely to work best for them and how to put together a social media strategy. There is also an important session covering the legal issues surrounding the use of social media from a recruitment point of view."
"Armed with all this knowledge, I wouldn't be surprised to see a buzz of Social Media activity in recruitment soon after the event as delegates eagerly put their new knowledge into practice."
That is of course in addition to those delegates who are already using social media and who will be looking to move up to the next level to make sure that they stay on top.
Some recruiters are still unsure about how (or even whether) they should be using Social Media for recruitment. This Conference is the ideal opportunity to help them decide.
Recruitment is continually changing. Even companies who may not be recruiting as many people as usual due to the economic climate need to equip themselves with up to date knowledge about social media so that they will be in a far better position in the future when they start to recruit more people."
Full details of the conference and speakers can be found at the Social Media In Recruitment web site.
###